What is Metalsmithing?
With a rich history and a contemporary artisan approach, metalsmithing is the fabrication of jewellery and objects, using ancient and modern metal construction techniques.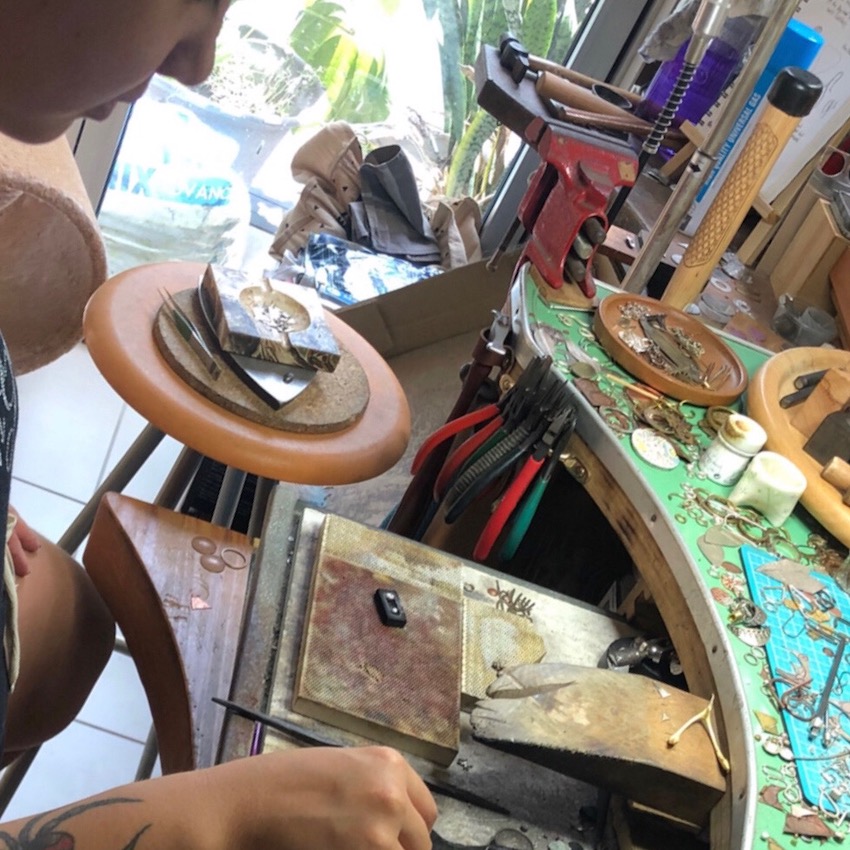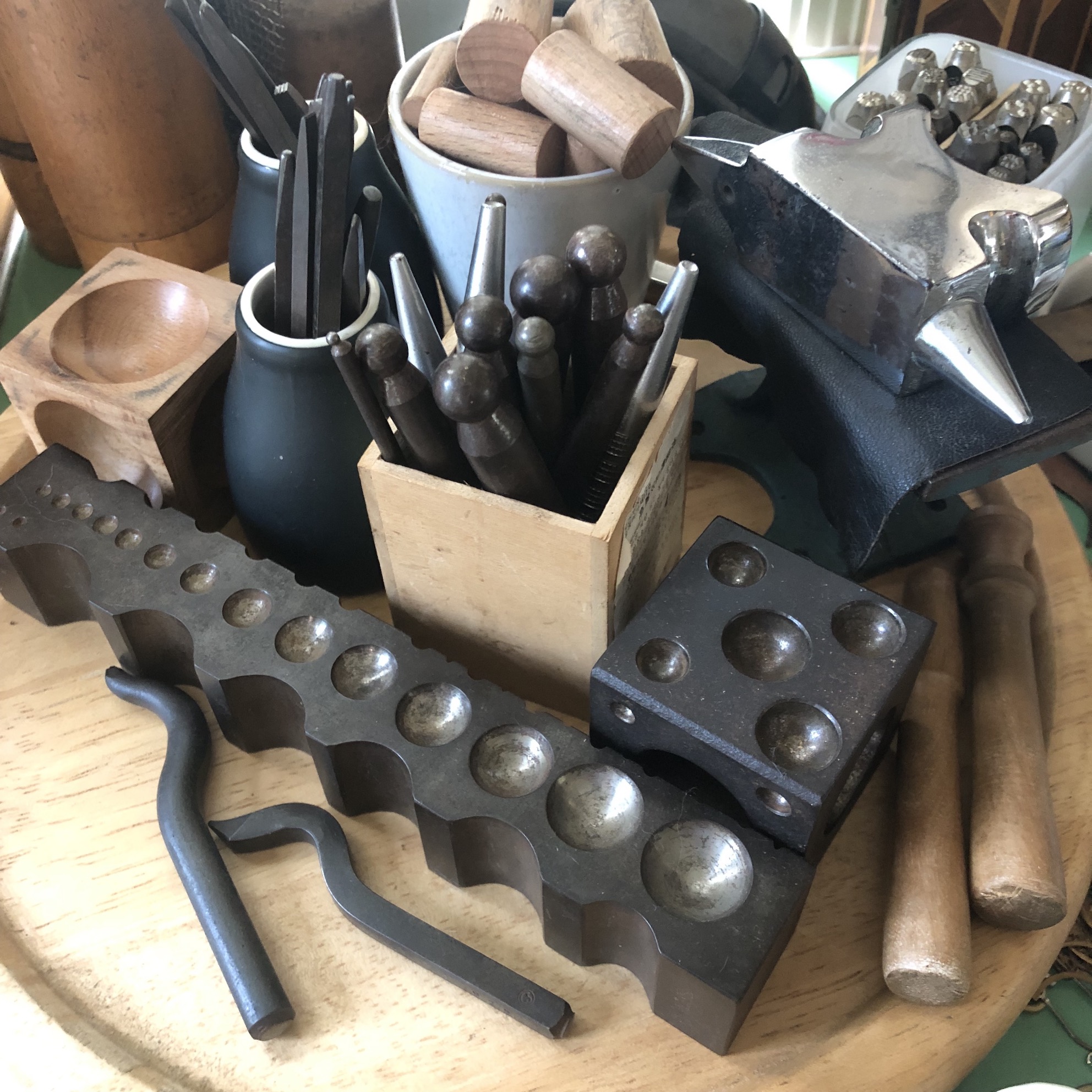 What's in a Workshop?
I love planting metalsmithing seeds and educating people about the process of making jewellery by hand, using age old proven techniques and hand tools. Working with metal sheet and wire from scratch. 
My teaching journey began when I was asked by the Cairns Art Gallery to create some jewellery making workshops to coincide with a Robert Baines traveling exhibition in 2012. Meeting Mr Baines, ('fan girl' since college), I agreed and he was cool. These workshops sparked interest in the silversmithing process, demystifying how jewellery is made by hand, creating an appreciation for this ancient skill.
"My students find something satisfying about hitting metal with a hammer!" 
I then proposed a short course cirriculum  to Tafe in 2014 as there was no other jewellery making introductory classes available, and my workshops at the CAG had popped the lid on a shiny Pandora's box. It is a very informal class about having fun, creating a keep-sake, and learning something completely different to anything else on offer here in Cairns.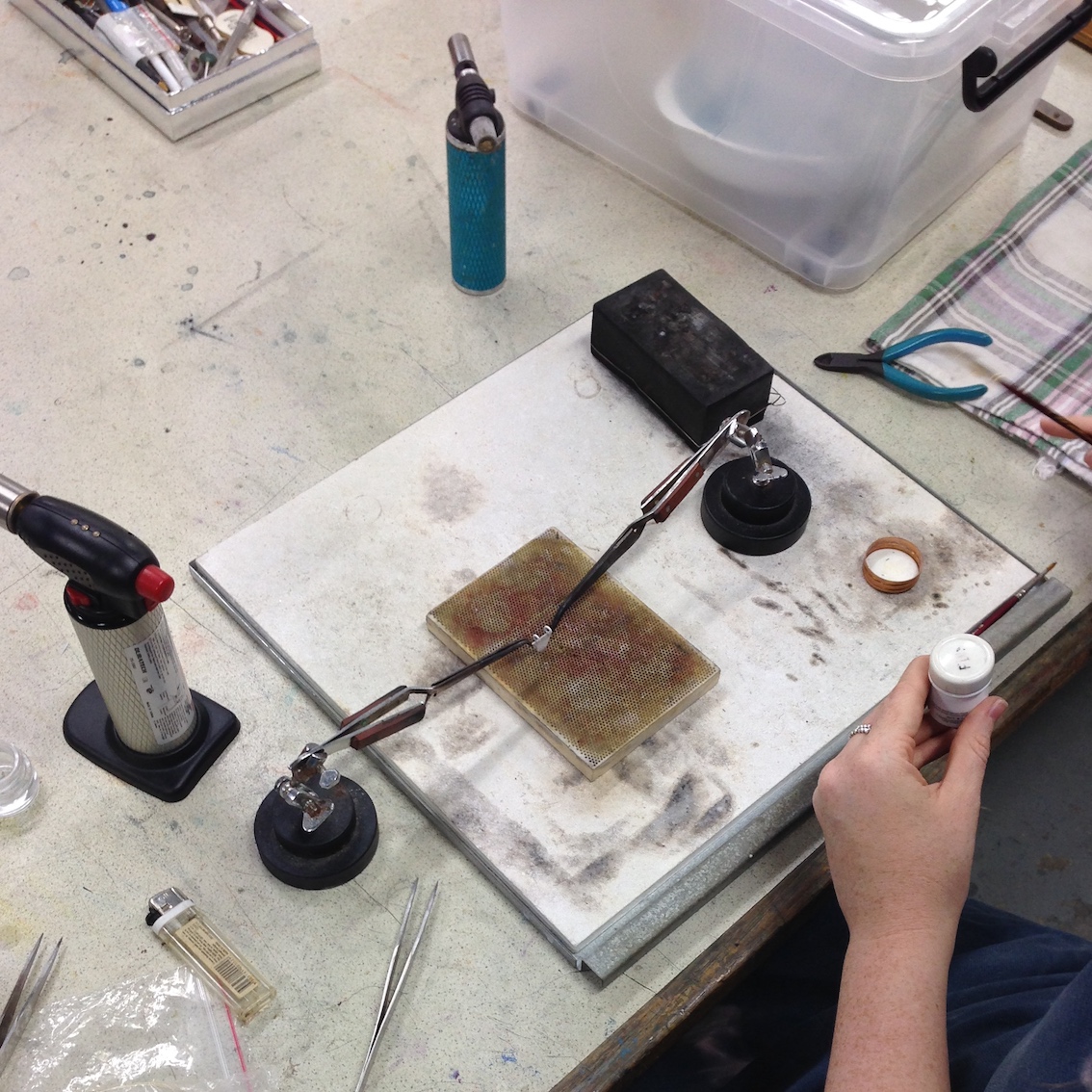 Introduction to Silversmithing
Where: Tafe North, Cairns
In this introductory short course I demonstrate fundamental jewellery making techniques using jeweller's tools, how to solder silver, copper and brass, jewellery component making, chain and ring making, along with the principles of shaping and texturing metals. Participants will be able to create more than one finished wearable piece of jewellery to treasure in the ten hours tuition.
When: Starting March 8 2023 these classes are each Wednesday evening from 6.00-8.30 pm for four weeks. Booking is essential as there are limited places.
Course code NONAC10016 call Tafe Queensland on 1300 308 233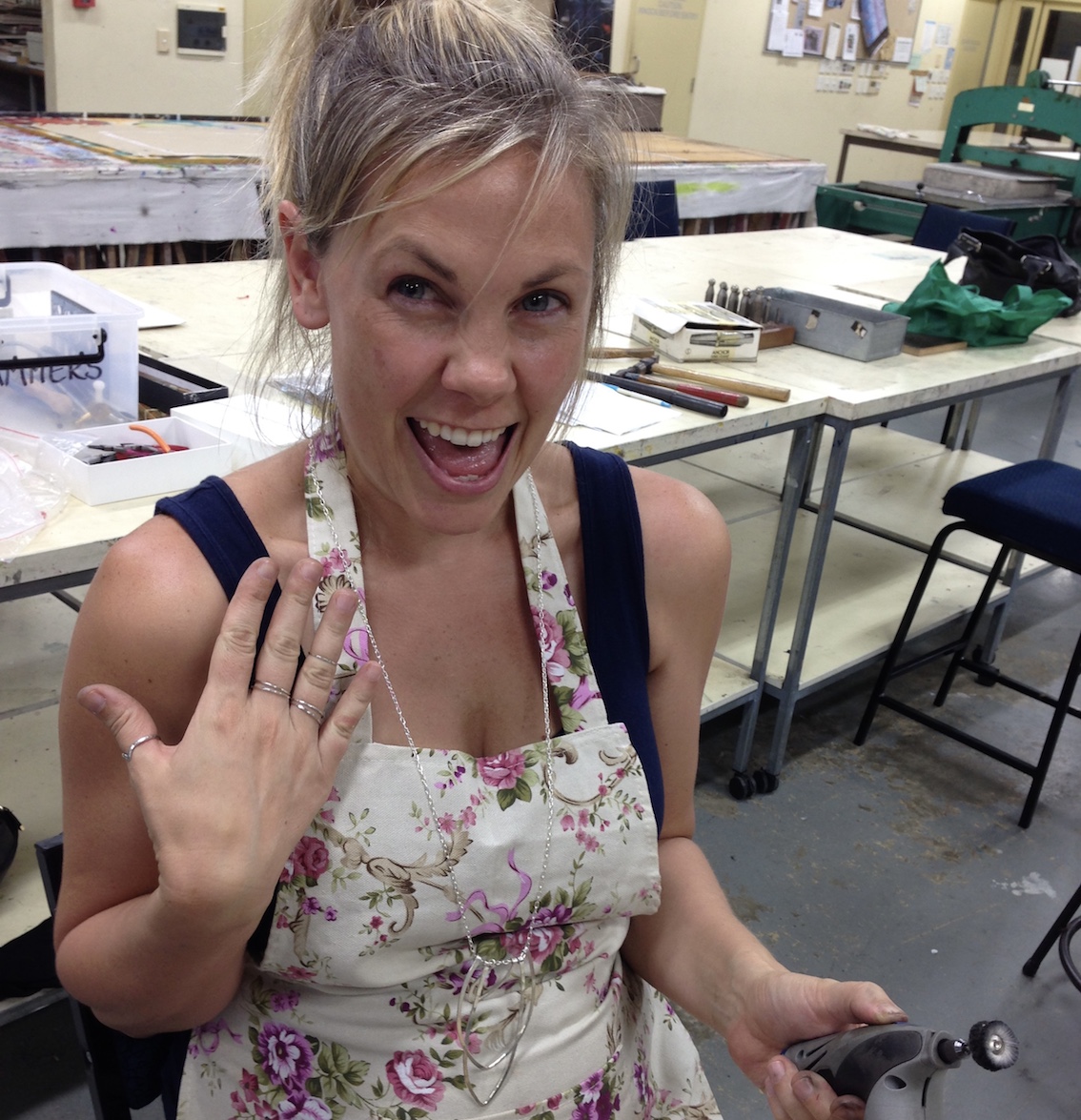 Up-cycle to Wearable Workshops
Got something you want to make into jewellery?
Up-cycle and Re-Create to Wearable.
Fun workshops to learn how to create new wearable art pieces from old jewellery and other items. Bring along your bits and pieces, or select from my stash, to up-cycle into a new wearable art piece, uniquely and beautifully you.
With my jewellery making knowledge and up-cycling know how I can show you what is possible.
All the tools, findings and stringing materials needed are supplied.
String Making Workshops
Come and learn the ancient art of string making from fibres manmade, recycled or foraged. Yes you can make string from virtually anything. Ginger plant leaves, banana tree stems, foraged fibres like grasses, plastic bags, anything pliable and long.
These can then be stitched or woven into bags, bowls. Made into little Goddess spiral earrings or used in embriodery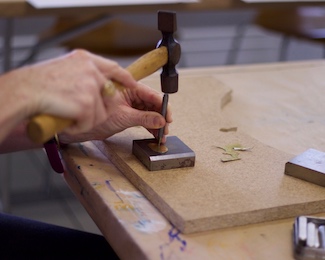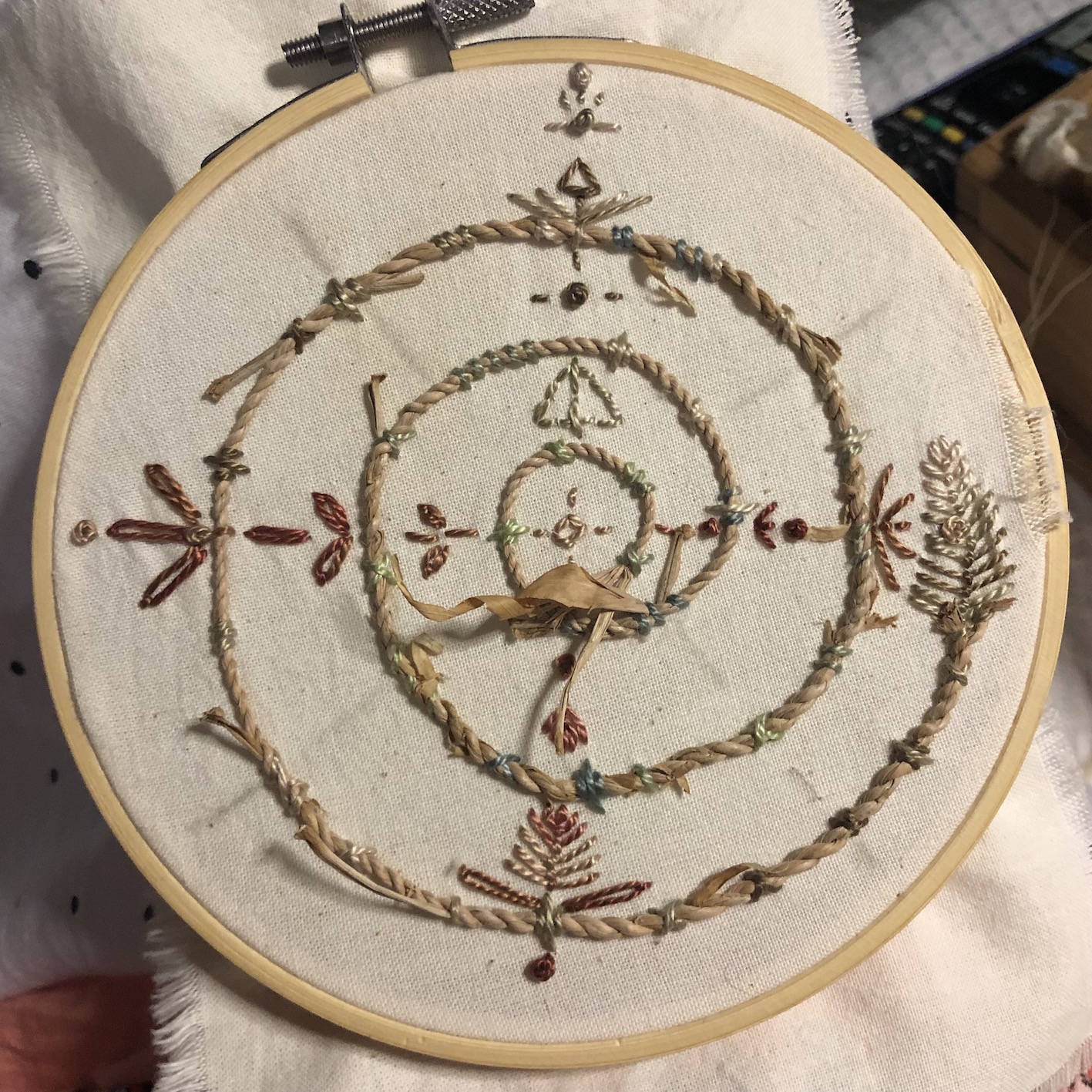 Custom Workshops
I have different workshop plans for all levels of learning from a fun 'Textured Earring' crafternoon you could book with a few friends all the way to the short course I run at Tafe where you can learn all the fundamentals of jewellery making.
For current available workshops book through my shop.
For a fun custom workshop with friends at your place get in  touch here I'm happy to discuss what is possible.
Private Tuition
A class room setting not appealing? Study with me by booking private tuition. Learn at your pace as a beginner, or refresh and up-level your skills. I can tailor your learning for you.
Give me ahoy to talk about tuition here