Exhibitions
are a place to explore the stories I wish to tell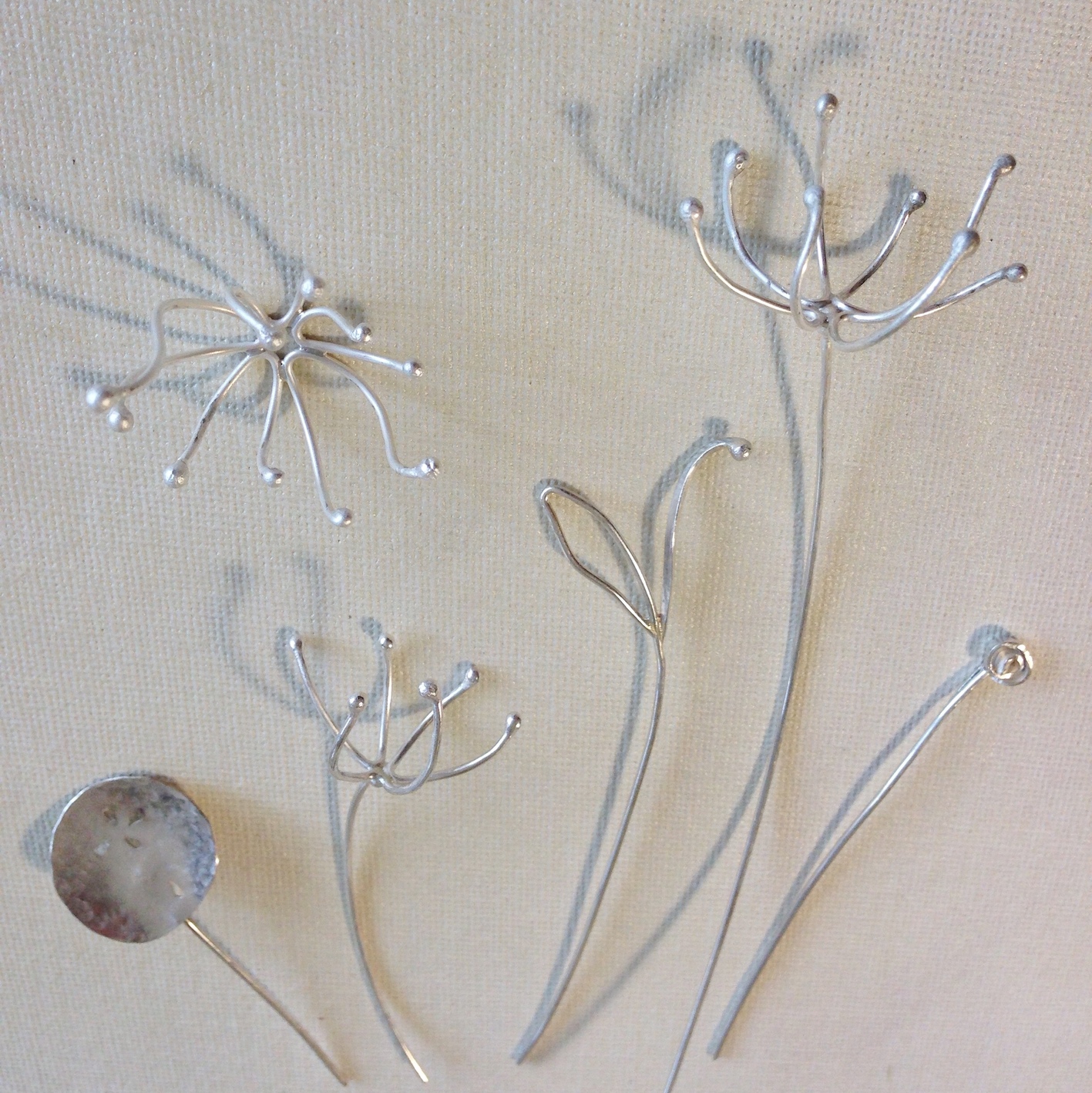 'Makebelieve Flowers', maquette,
'Conversations with my Mother' 2014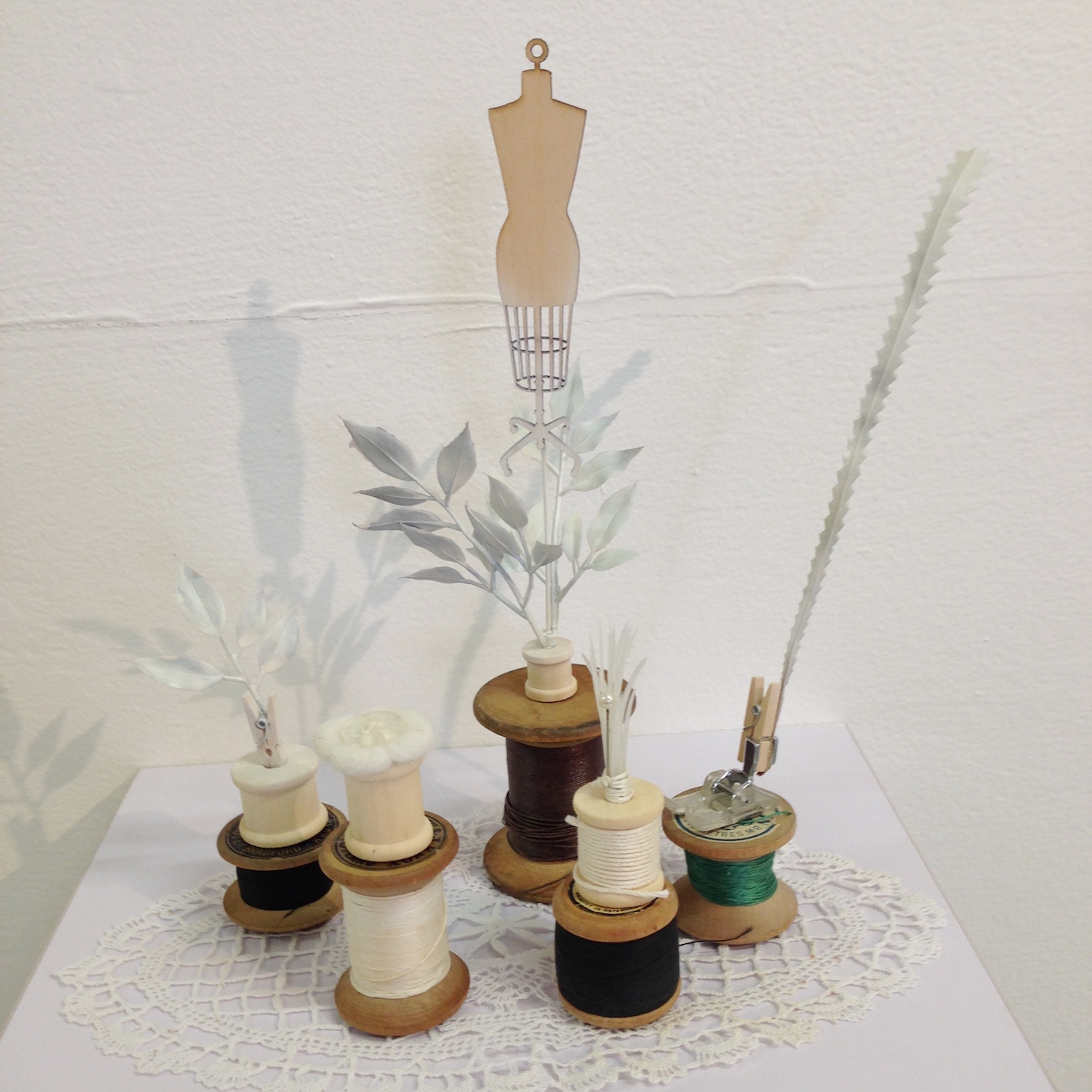 'Sewing Garden', object,
'Conversations with my Mother' 2014
What's in an Exhibition?
To me Exhibitions, or Shows, are a collection of works that an Artist has created to a narrative. They can be group shows, often with a theme, or a solo showcasing a body of work. Sailing was my seachange from the art world, but a longing to create called me back to being a maker.
In 2014, beached from years of shipping adventures, time working for other jewellers, and in a sea of grief, I found Julie Poulsen's Diploma art classes at Tafe. In the last term we had to develope a body of work. I was a little artistically rusty but it felt good to be self directed again.
"Conversations With My Mother" developed from my need to grieve and grow.
With mum's passing came a flood of memory and a longing for the sound of her voice. 
Joyful tales about all the domestic things you need to make a home was a fun conversation between us. We joked about what society said we 'couldn't live without', when we knew we could happily make do 'camping on a shoe string', she would say.

Seeing the beauty in all things I created whimsical and ethereal  'make-believe' blooms from everyday household items using florist wire, feathers, plastic flower parts, cotton reels, buttons, needle and thread. I gathered nesting materials like a bird. A white washed aesthetic tied the works together, creating silhoette shadow forms of birds and flowers. All the loves and lessons of our shared time together.
Memories of my mum Janice, our language of making with our hands and hearts, without words, became a delicate collection of works with a little of her humour giggling in my heart. A remedy for my sorrow!
'Nesting Materials', maquette,
'Conversations with my Mother' 2014
Process work for 'Conversations with my Mother' 2014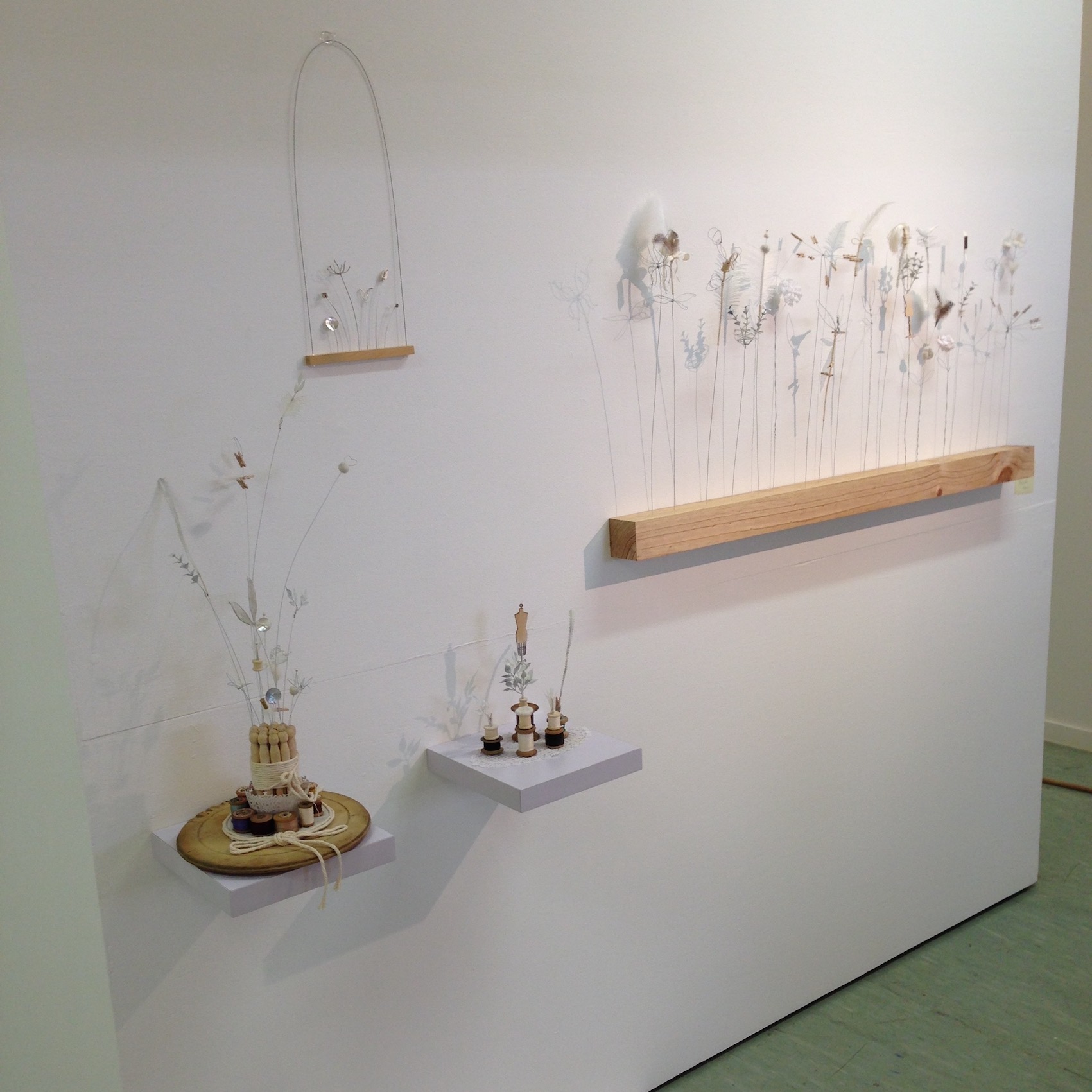 'Conversations With My Mother' instalation for "Showcase" end of year student exhibiton, Tafe North, Cairns 2014
'Conversations with my Mother' was selected to show in 'Cairns Emerging Contemporaries 2015', a group show presented in the Loft Space of Cairns Art Gallery. (Formerly known as Cairns Regional Gallery)
This oportunity came with an option to apply for a solo exhibition, which I did and from there 'All That Remains' was born.
All That Remains
"Throughout this installation Hunter explores the possibilities of positive interventions such as the farming of endangered corals and hybrid new species for the future. The rings and brooches in the center of the room are laid out like a propagation table, the necklaces pinned to the wall like preserved insects."
"Hunter uses reclaimed plastics, including translucent tubing and tiny sushi take-away containers filled with micro beads, alongside redundant electrical cords and precious fabrics to draw attention to the impact of our consumption and disposal on the environment."
Ashliegh Cambell, Curator. 2016
'All That Remains', my first solo exhibition, was created for the Niche in CAG. A small intimate space where I was able to take the viewer on an investigative visual journey into reef restoration to highlight climate pressures I could see were possibly too late to rectify. I had witnessed a lot of polution globally from my seafaring years. Hence the title, questioning what will remain if we keep using resources as fast as we are, lots of colourful plastic!
"Single use plastics, obsolete electronics, chemical impacts of farming, disposable fashion, and a million other little concerns, have been contemplatively stitched into the works." Kate
Colour Restore 'Test 1' to 'Test 9' , 'Test 5' pictured.
Nine soft sculpture mixed media necklaces of knitted cotton string, electronics cables, polymer clay, felted cat fur, mohair, embroidery thread, soy sauce fish, kimono, mother of pearl, faux pearl, wood, glass, cable ties, acupuncture needle sheaths, plastic aquarium coral, plastic plant parts.
'Colour Restore Test 1 to Test 8' were selected for 'USE', a juried exhibition by Members of The Jewellers and Metalsmiths Group of Queensland curated by Liam Bryan-Brown. This exhibition travelled Regional centers through 2018 -2021. Read more here
'Domestic Flora' was my working title for the works during the making process for 'Conversations With My Mother' 2014
'Cairns Emerging Contemporaries 2015' at the Cairns Regional Gallery 23-January to 1-March 2015.
"The sculptural works "Conversations with my Mother" explore the concept that 'conversations' aren't always in words, they can be visual gestures of showing and learning, reminders of moments and places we have been before." Kate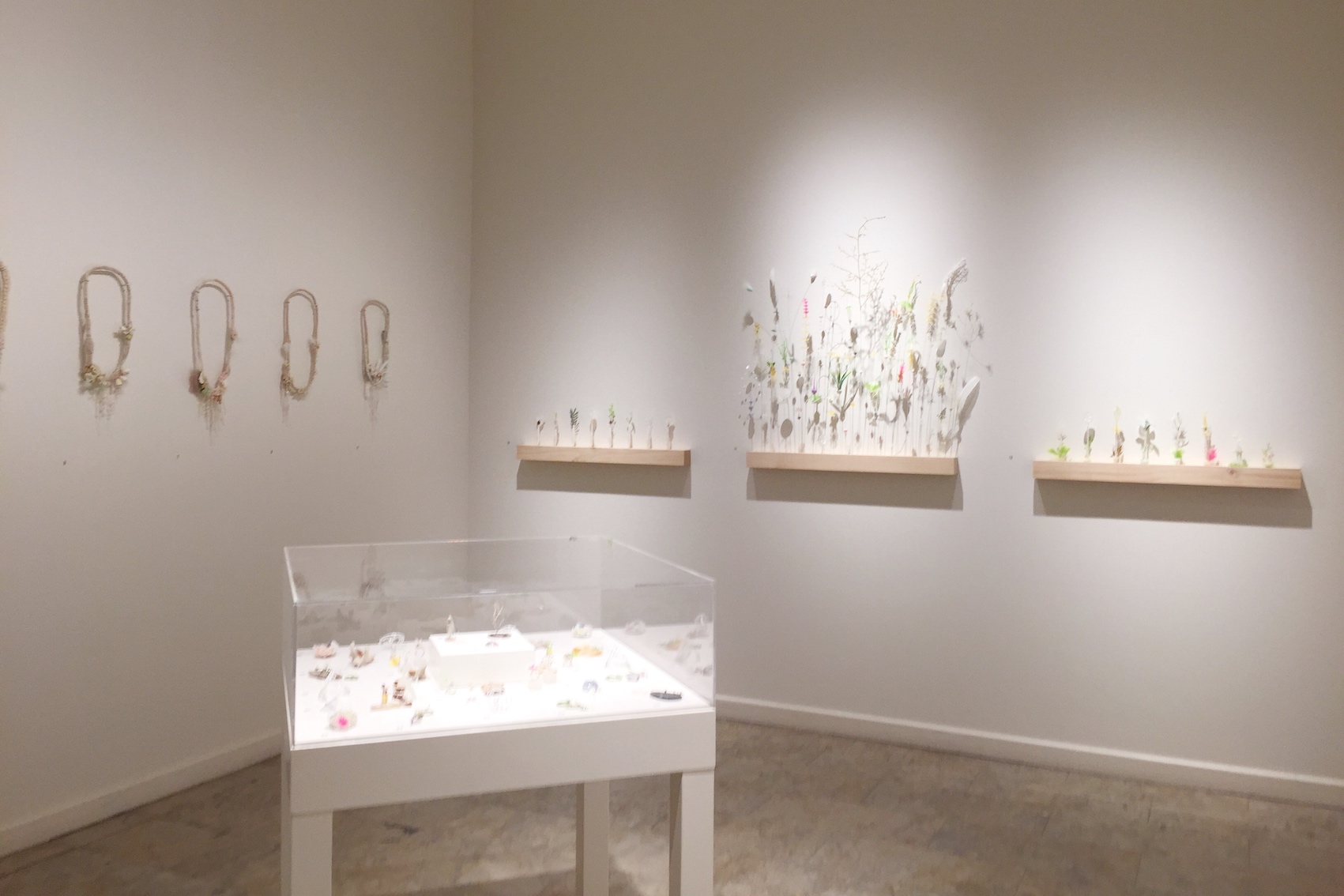 'All That Remains' images of the works being installed in the Niche space at Cairns Art Gallery 2016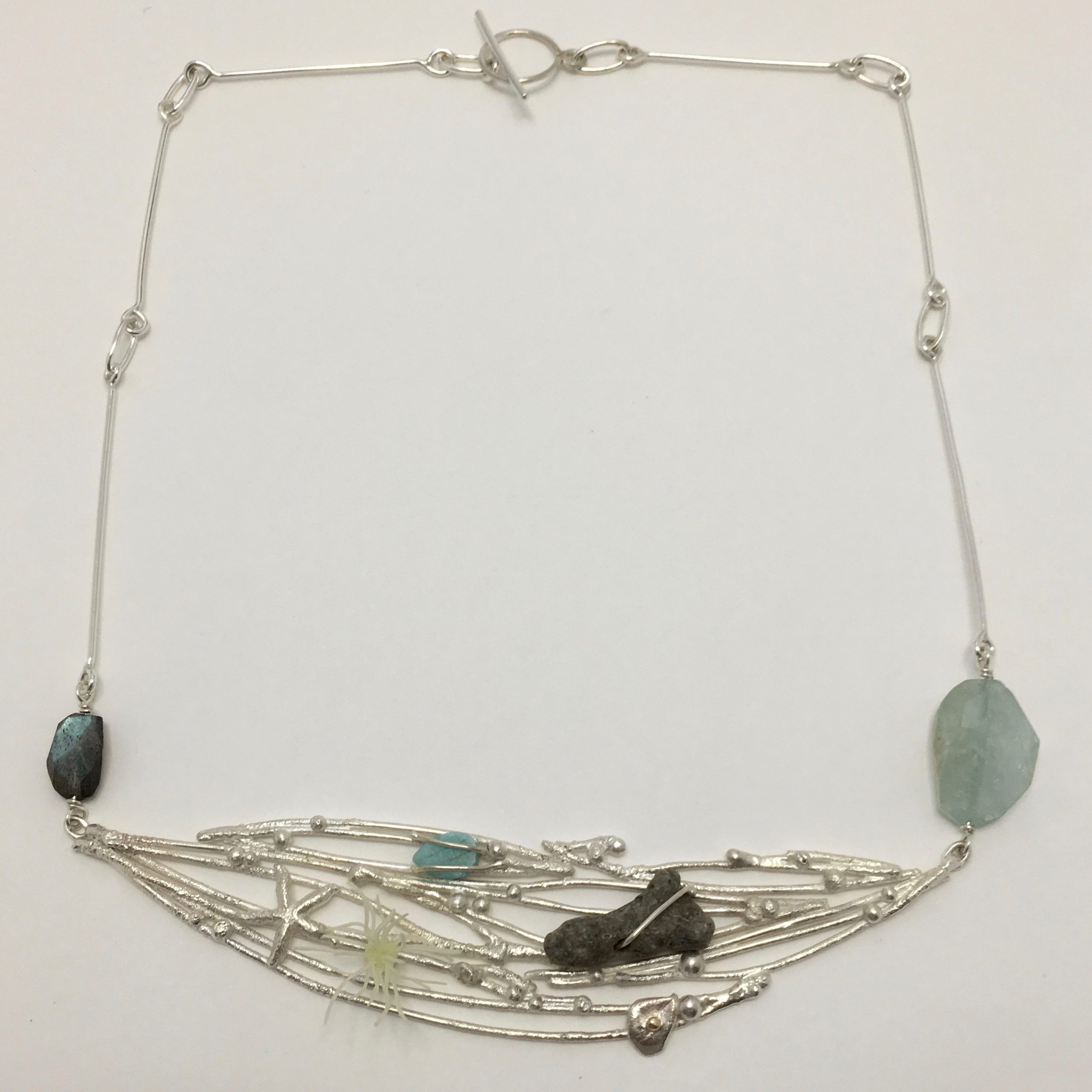 'Tidal', hand fabricated reticulated and fused sterling silver, 18ct gold, coral, beach rubbish, aquamarine, laboradite.
"Kate, experienced silversmith, qualified mariner, motivated environmentalist and a cross medium artist exudes a kinetic enthusiasm that is a palpable force, an assured strength and confidence expressed in multi-faceted talent." Sonja Anderson, Garland Magazine 2017. Read more here.
"Catherine Hunter's focus on the impact of consumerism on the environment showcased a juxtaposition of traditional crochet techniques with cables and throw-away plastics." Read more of Vivien Bedwell's review of 'USE', Garland Magazine 2018 here.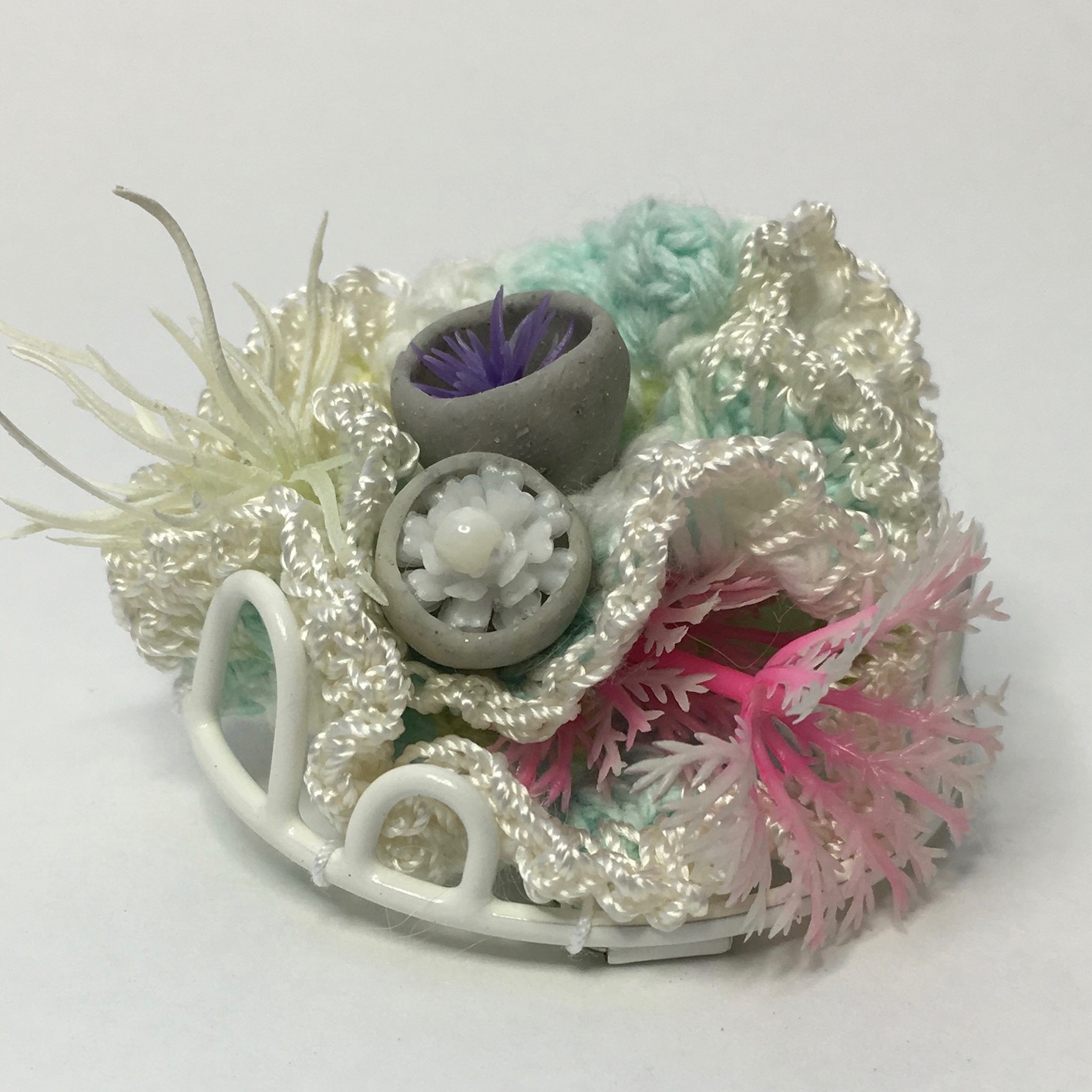 'Micro Habitas I' brooch, faux pearl,with grey hand coloured polymer clay, felted cat fur, hand fabricated brass powder coated brooch frame, stainless steel, crochet cotton, rayon, mother of pearl, plastic plant parts.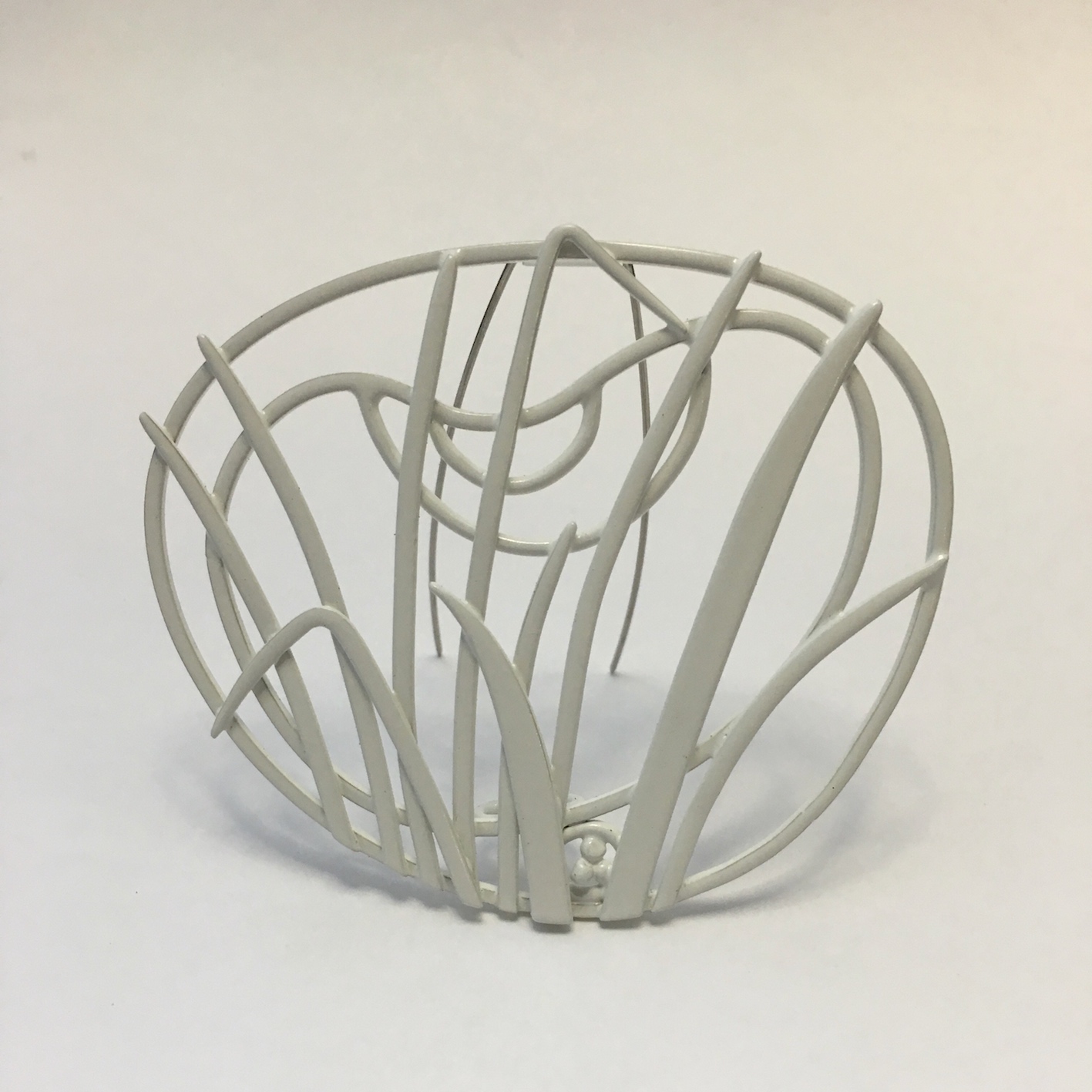 'Wetlands' III brooch, hand fabricated brass, powder coated, stainless steel pin.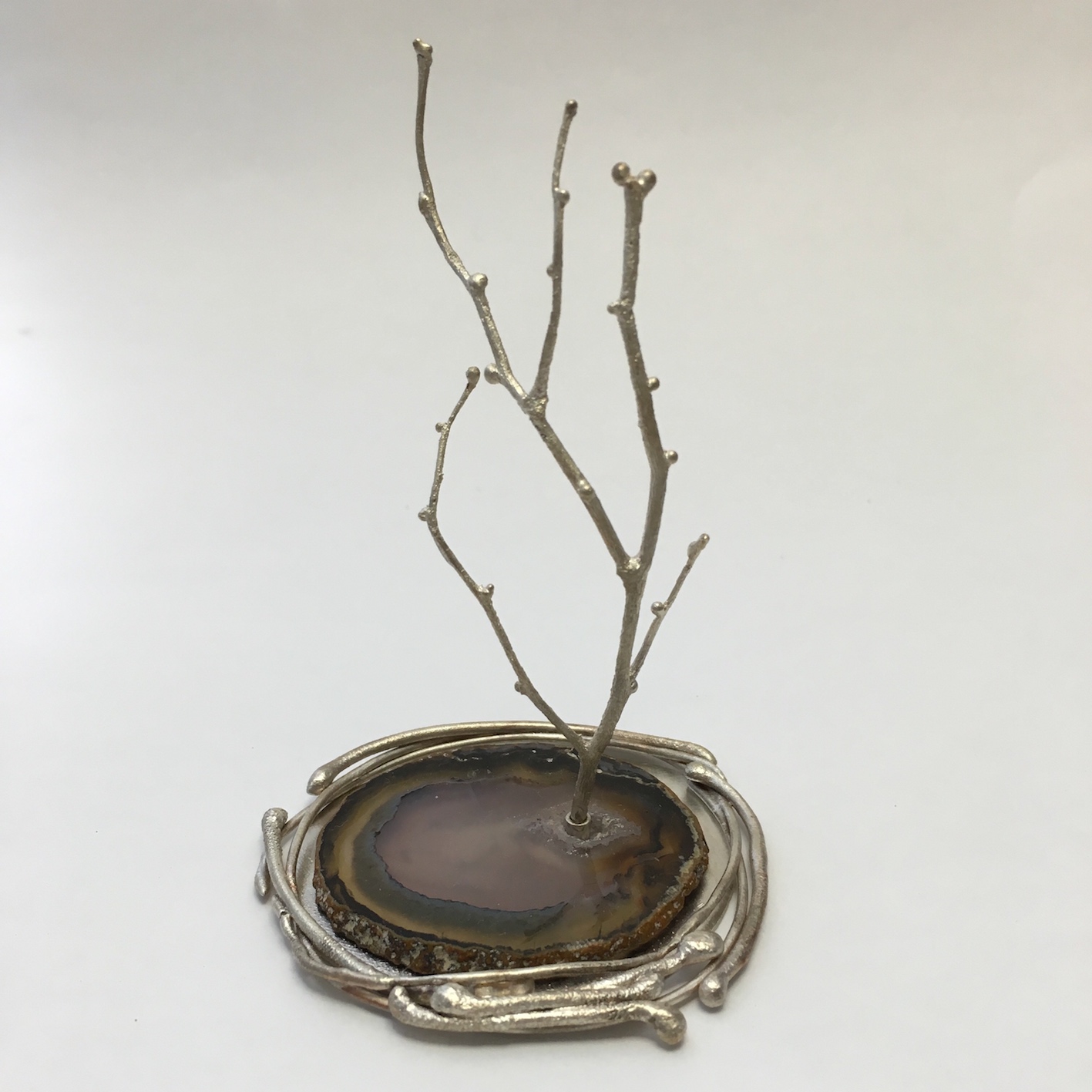 'Jacana' object, hand fabricated reticulated and fused sterling silver, natural Queensland agate slice, cast natural object.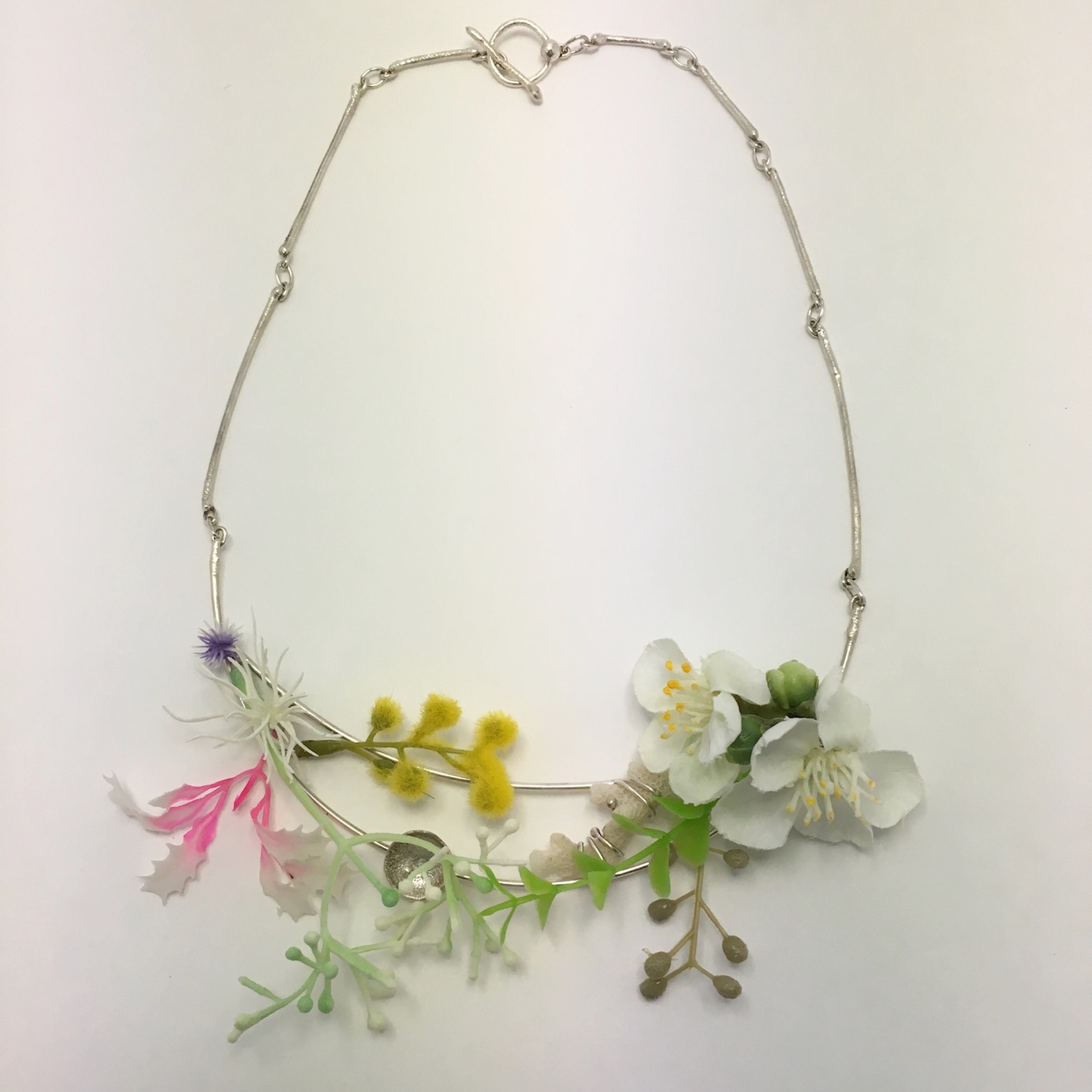 'Still Life With Flowers' necklace, hand fabricated reticulated and fused sterling silver with plastic flower parts.
Lay Of The Land
"Shapes & lines carved into the landscape, both human & natural.
Cliffs rise up reminiscent of cloud shapes,
Decorating the trees with white ribbons fluttering on edge.
Water courses scribble through the straight survey lines of mapped acreage.
Towns are reflective huddles of dots,
Clustering together in safety." Poem by Kate Hunter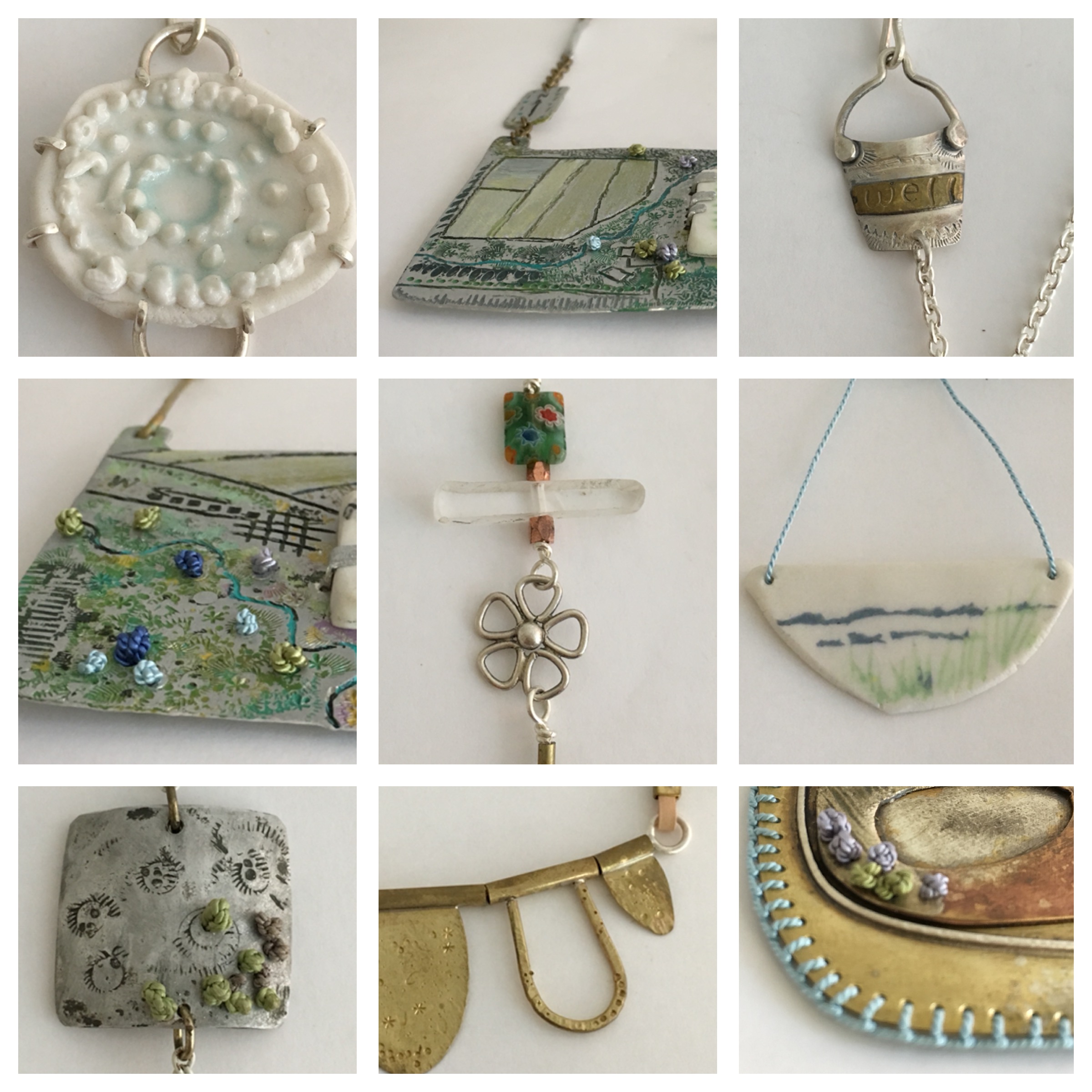 'Lay of the Land' details.
Home
"Where we come from, our familiar surroundings, the place we call home.
The marks in the landscape, are they indicators that show us we are home? Do we use these marks to navigate our way home? Is home ancestral, or a place inside that assures us we are home? Do we know the lay of the land?
The marks we make in the landscape interest me, it is like drawing with a grader or a tree line. Town geometry, roads, the patchwork of farming, crop patterns and the survey lines all create visual textures that overlay the physical landscape they cover.
These marks are evidence of our impact on the landscape and have changed the 'lay of the land', the natural situation." Kate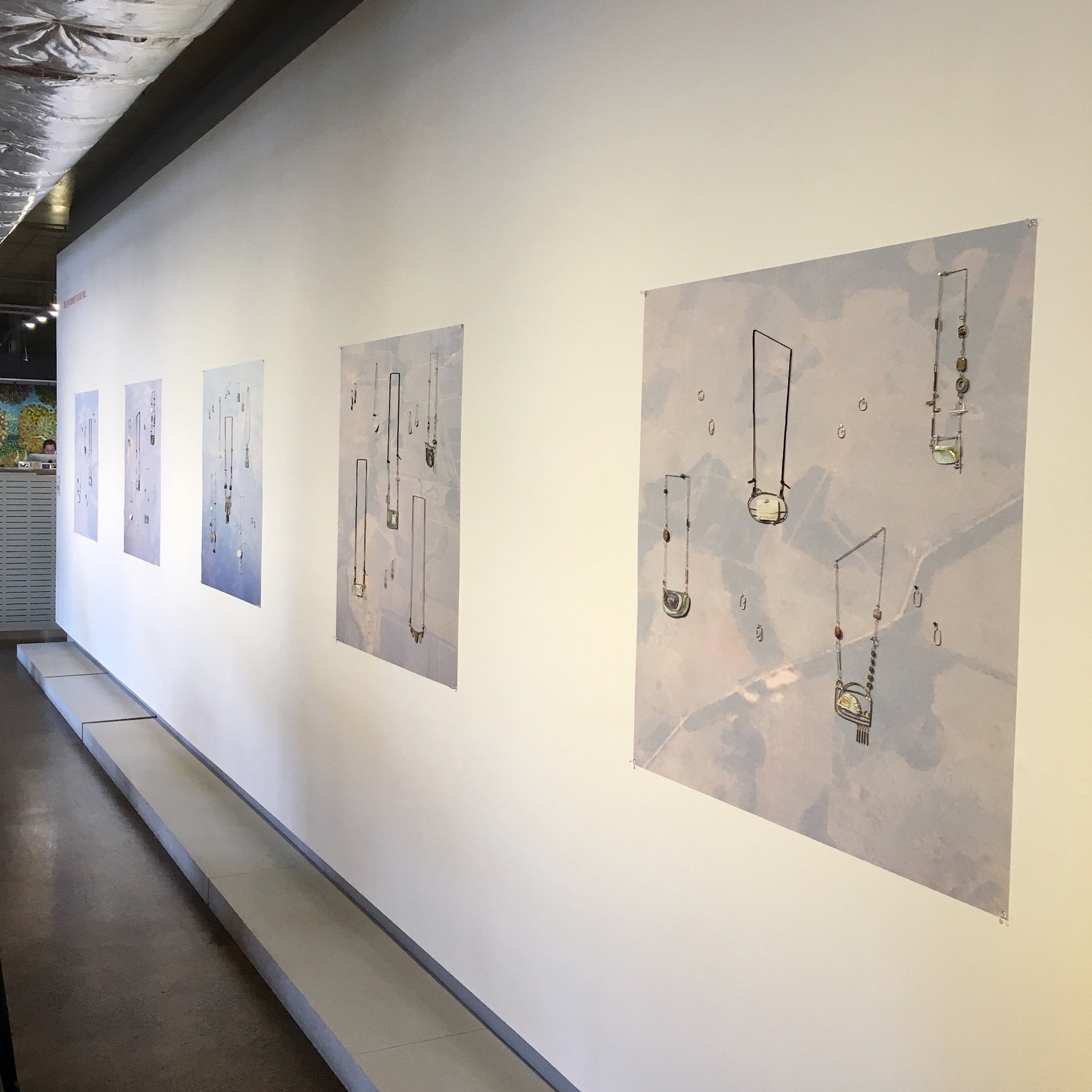 KickArts Wall Installation 2017
"Emerging artist Kate Hunter examines the topography of our diverse Tropical North Queensland landscape through her latest exhibition Lay of the Land. A series of contemporary jewellery installations create an aerial view over our landscape with over 19 individual jewellery pieces highlighting the unique detail of our tropical landscape. The marks physically embedded in the landscape both man made and natural, enable us to navigate the topographic geometry present. Each pattern and texture evidences our impact on the landscape and the ever changing Lay of the Land." Curator Miriam Carter. 
'Lay of the Land' install detail of aerial photograph wall display.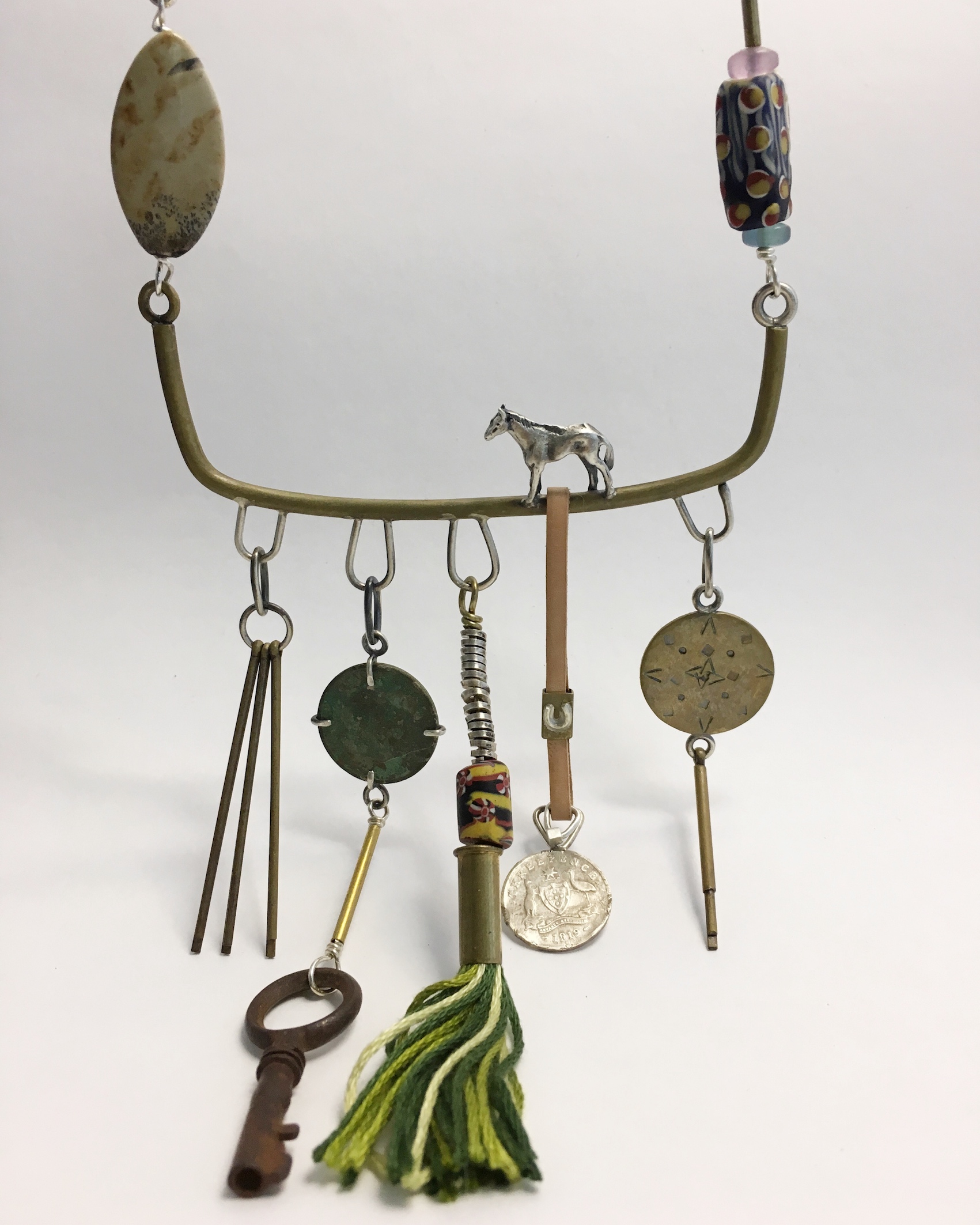 'Relics From The Horse-flat' necklace, silver, brass, found objects, leather, venician trading beads, flourite, agate and embroidery thread.
Left 'Home is past the Old Quarry', necklace, brass, sterling silver, copper, slip inlayed porcelain.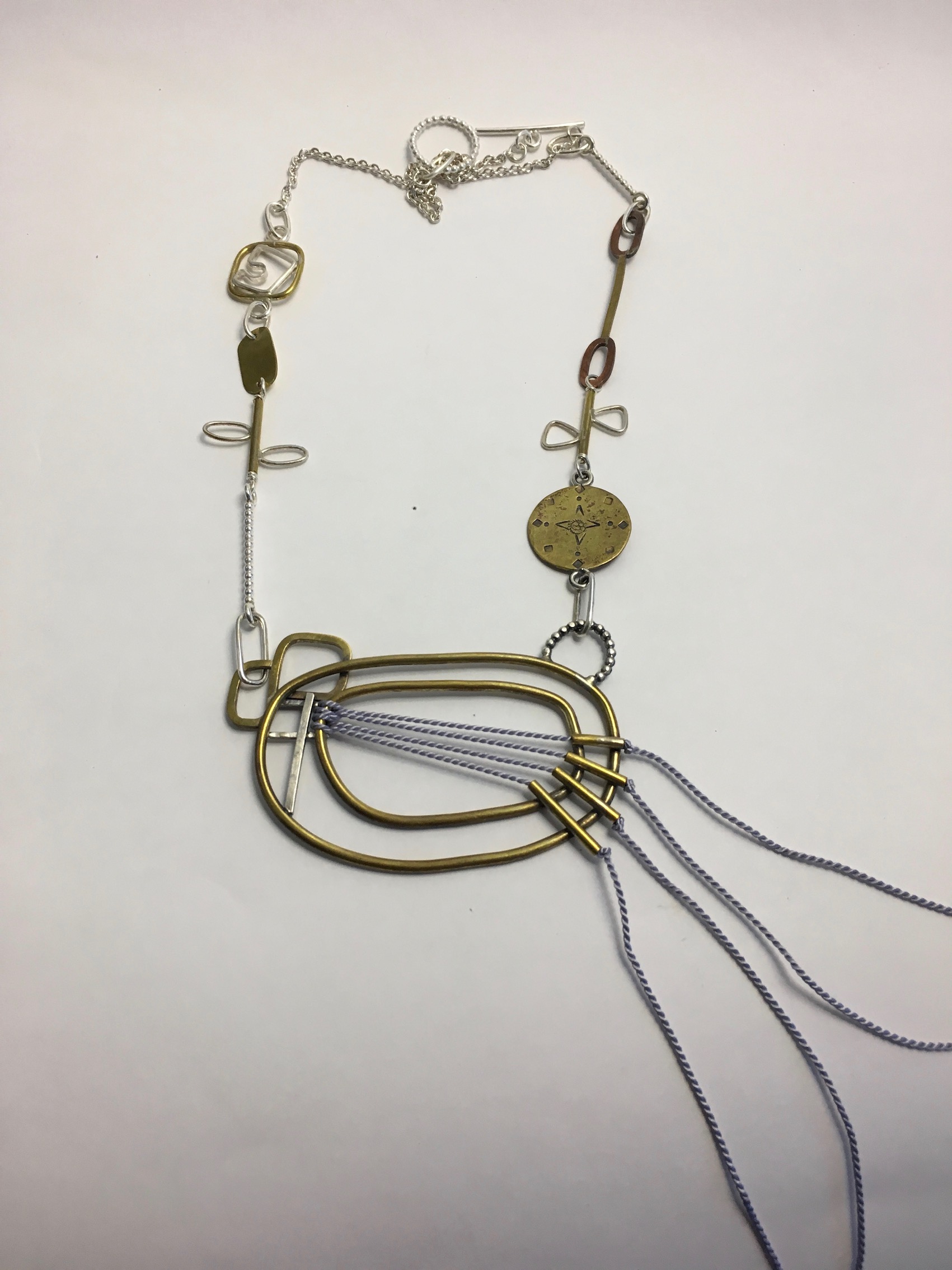 'Follow the Telegraph Line'
Brass, sterling silver, copper, silk thread.
'Bridge Goes Under in the Wet'
Brass, sterling silver coloured slip inlayed porcelain with clear gloss glaze, kangaroo leather.
'A River Runs Through It'
Brass, sterling silver, copper, fluorite beads, Tiger Iron.
'USE'
'USE'  Redland Art Gallery, Brisbane, 2018,  travelling Australia into 2021.
So pleased 8 of my large sculptural necklaces from my solo exhibition
"All That Remains' were selected for 'USE', a juried exhibition by Members of The Jewellers and Metalsmiths Group of Queensland curated by Liam Bryan-Brown.
Tour Dates (2018 – 2021)
Redland Art Gallery, QLD: 25 January – 3 March 2019
Tweed Regional Gallery & Margaret Olley Art Centre, NSW: 15 March – 19 May 2019
Hervey Bay Regional Gallery, QLD: 17 June – 29 July 2019
Noosa Regional Gallery, QLD: 2 August – 8 September 2019
Bundaberg Regional Art Gallery, QLD: 1 October – 17 November 2019
Banana Shire Regional Art Gallery, QLD: 25 November 2019 – 28 January 2020
New England Regional Art Gallery, NSW: 7 February – 3 May 2020
Hurstville Museum & Gallery, NSW: 1 August – 25 October 2020
Port Pirie Regional Art Gallery, SA: 11 December 2020 – 31 January 2021
Mundubbera Regional Art Gallery, QLD: 1 May – 28 June 2021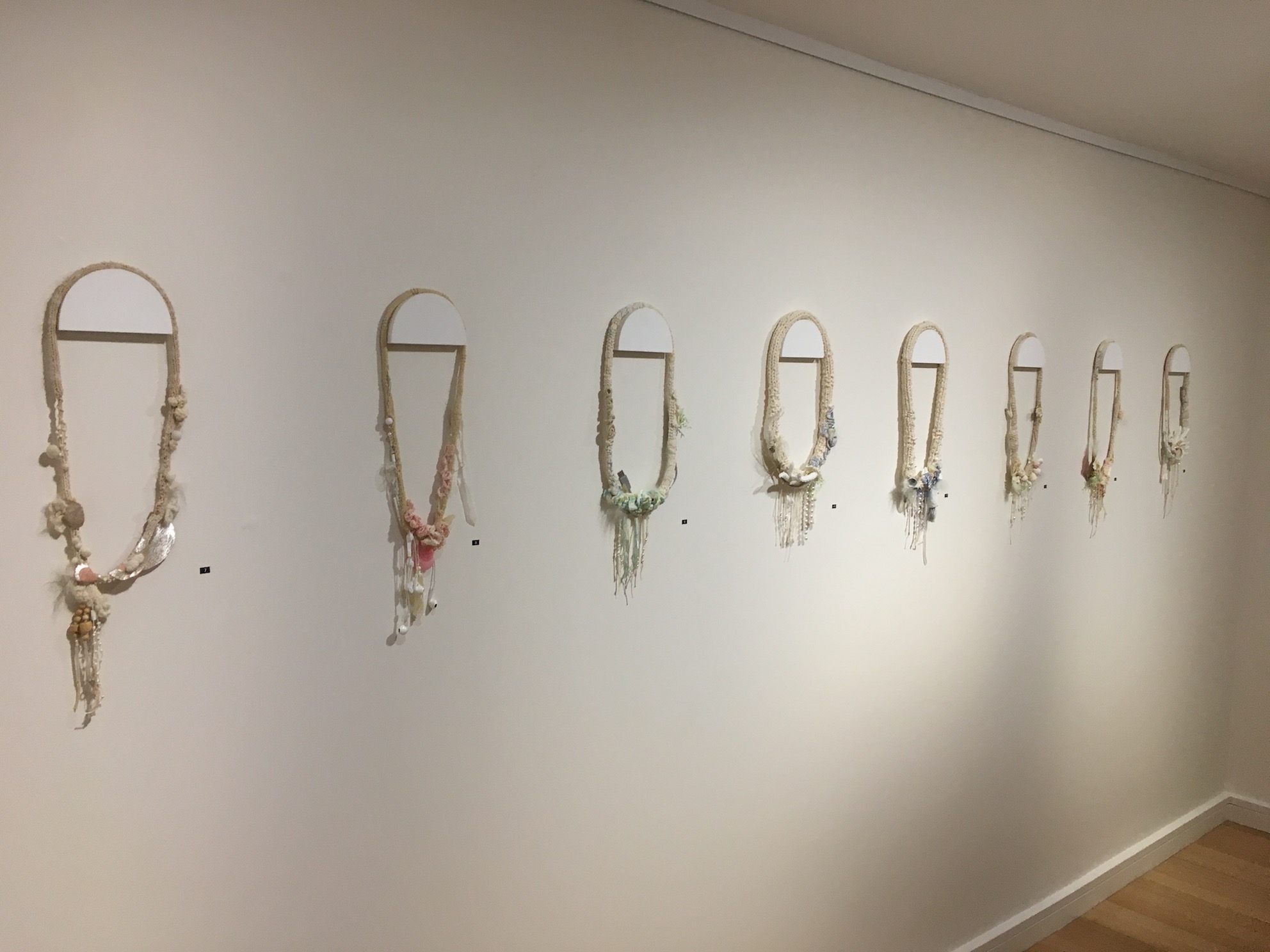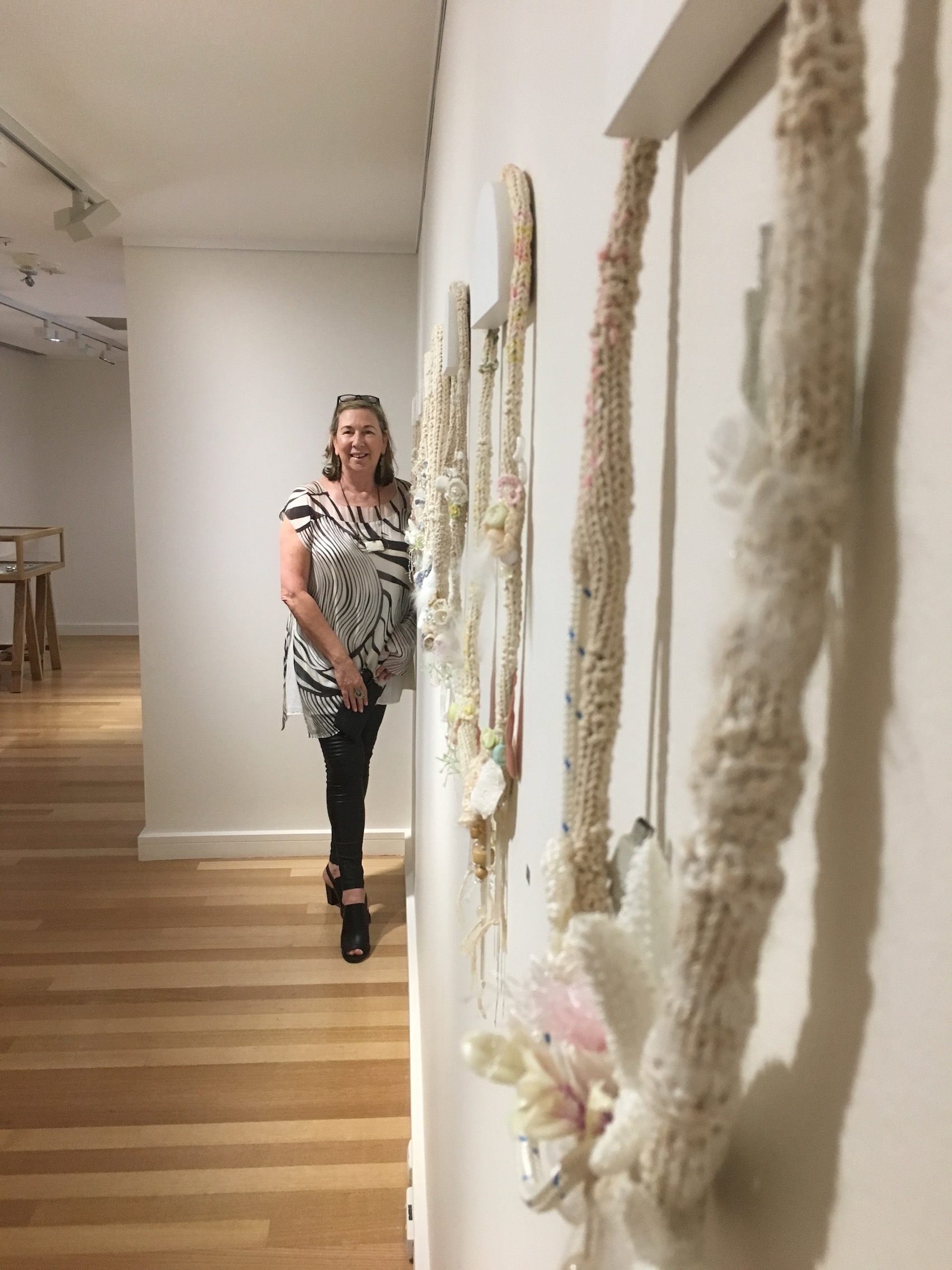 USE
"Use
a juried exhibition by the members of the Jewellers and Metalsmiths Group of Australia (Queensland Chapter) Inc. Thematically focused on tools and processes,
Use
explores the conceptual breadth and layers of meaning that operate within this theme for contemporary jewellery practitioners and metalsmiths. At the heart of any artisan's practice, tools and processes provide an interesting and reflexive subject matter and point of entry into contemporary jewellery and small objects practices."
Left: 'Use' installation at Redlands Art Gallery.
USE :  (ESSAY)
By Liam Bryan-Brown
"The tools that fill the drawers and cupboards of a jeweller's bench are each imbued with the memories of their use. As hammers swing to shape and mark, so to are they shaped and marked by the materials subject to their blow. Their potential to create is inherent but impotent, unlocked by the skill and drive of the artisan who wields them. " (Bryan-Brown, L  2018, pg 1). Read more here.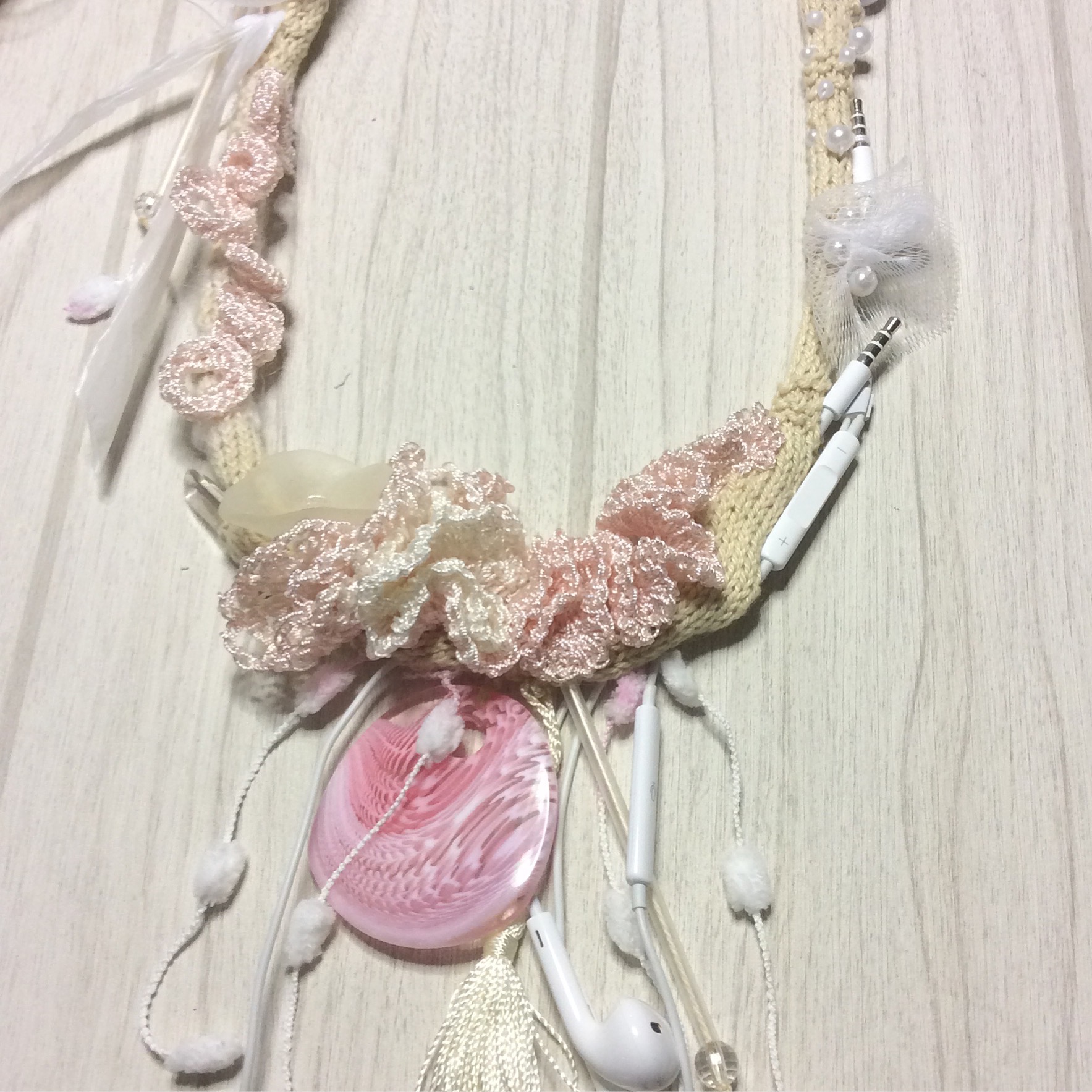 How we use things at present is more poignant than ever with the prevalence of single use plastics like toothpicks, acupuncture needle sheaths, superseded electronics cables, shopping bags, drink containers, soy sauce plastic fish, just to mention a few. It appears we have embraced this mass consumption as the norm.
Colour Restore 'Test 1' to 'Test 8' are mixed media necklaces that use these discarded materials in combination with traditional feminine crafts of embroidery, knitting, crochet, felting and beading. Pictured above are my beginning stages of necklace construction.
Somewhere on this planet we use plastic to manufacture incredibly detailed replicas of plants, flowers, corals, faux pearl and gemstone beads, even plastic rock crystals for cheap fast fashion jewellery.
Using these deliberately selected materials to make something wearable and beautiful, was a therapy of sorts, stitching all my environmental worries and concerns into each piece. One small drop in a very big ocean, hoping to make a ripple by drawing attention to consumerism. All the while whimsically wondering if, with all this technology, could we one day restore colour to the bleached parts of the reef.
Each necklace has an electronics cable as a core, creating a body for the hand knitted cotton string covering that incorporates deconstructed coloured parcel twine, mohair and spun cat fur. By using different knitting stitches to make patterns, I have created coral like textures on these casings.
The necklaces are embellished with polymer clay, felted cat fur, crocheted embroidery thread, mother of pearl, faux pearl, faux moonstone, wood, glass, cable ties, acupuncture needle sheaths, plastic plant parts, plastic shopping bags, plastic aquarium coral, kimono fabric, plastic crystals, and marine rope.
State Of Shine 
In 2019 JMGQ presented The State of Shine at Brunswick Street Gallery, Fitzroy, Melbourne. The exhibition showcased the shining and vibrant contemporary jewellery and metalsmithing community in Queensland, and was part of Radiant Pavilion, Melbourne's Contemporary Jewellery and Object Biennial.
"The State of Shine, a selected exhibition, is the exploration of twenty artists about what it means to design and make in Queensland." JMGQ.
'Dangerous Places Far North Queensland'
My series of four rings exploring far north Queensland's dangers and environmental pressures.
Pictured right are 'Stinger Lagoon', 'Little Tern Cay', 'Hatchlings' and 'Crocodile Island'.
'Crocodile Island' has a menacing croc and features a cliff of natural green garnet crystal, from Mt Garnet QLD, that rises up from sea level with vertical cliffs, impossible to climb to escape the huge crocodile that lives by the shore line. 'Stinger Lagoon' is an unsafe place to swim full of deadly Irukandgis, box jellyfish and Stingrays, all capable of delivering a fatal sting.
'Hatchlings' swim for your life as few will make it to adulthood. Research has sited environmental pressures of rising sea levels threaten turtle nesting beaches on Raine Island in the Great Barrier Reef.
'Little Tern Cay' refers to Michaelmas and Upolu Cays, 43kms north-east of Cairns providing sanctuary for the nesting and roosting of several species of sea birds. Rising sea levels and king tides threaten these sanctuaries.