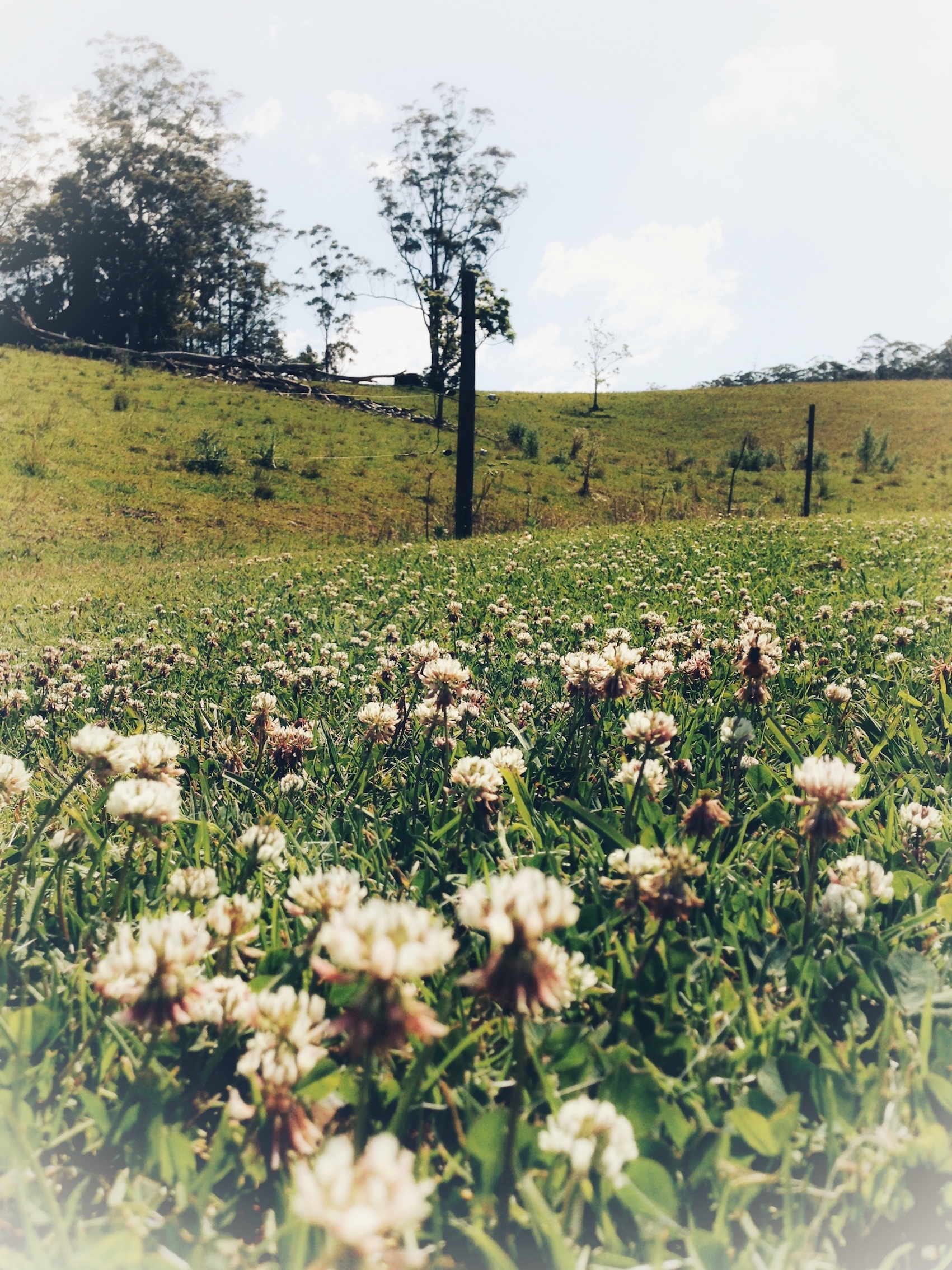 Beginnings
I'm a practical kid from a dairy farm, I learnt how to mend and make do. Growing up in Upper Orara was a good grounding and connected me with nature, all its creation and the cycles of life. I was always cobbling things together making little rafts for the river, kites to fly, weavings from next door's angora goat hair. 
I jumped into a Bachelor of Design fresh from High School at 17, moving to Adelaide in '81. This really unearthed my skill potential and inspired me to experiment with metals and surface treatments. A big part of what I do I've taught myself through experimentation.
After graduating I needed open space and sky so I took a job care-taking a cattle property in rural SA for a year, followed by waitressing and a cool time working for a jeweller in Laura SA, making ends meet like a gypsy. I was always journaling and writing poetry, drawing jewellery ideas or sketching the landscape.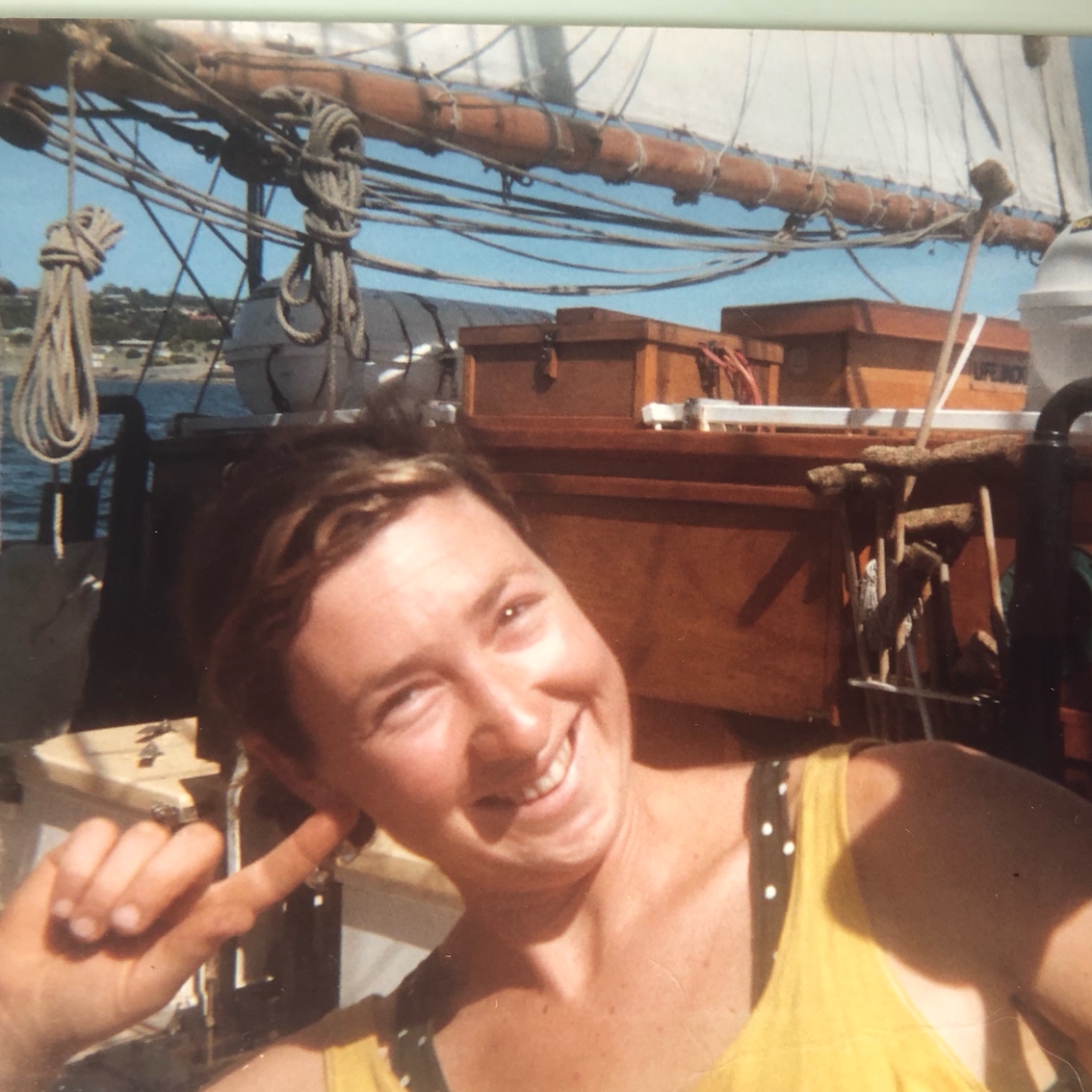 Sailing Life
My Sea going career began with the Tall Ships Race in '88, then on the "One And All', a square rig sail training vessel shipping out of Port Adelaide, where I spent two years doing sail training voyages. It was invigorating, climbing aloft, feeling the breeze shift, sailing full and by! Connecting me deeply with the cycles of the moon, the mysteries of navigating by stars, the energy of wind and power of the ocean.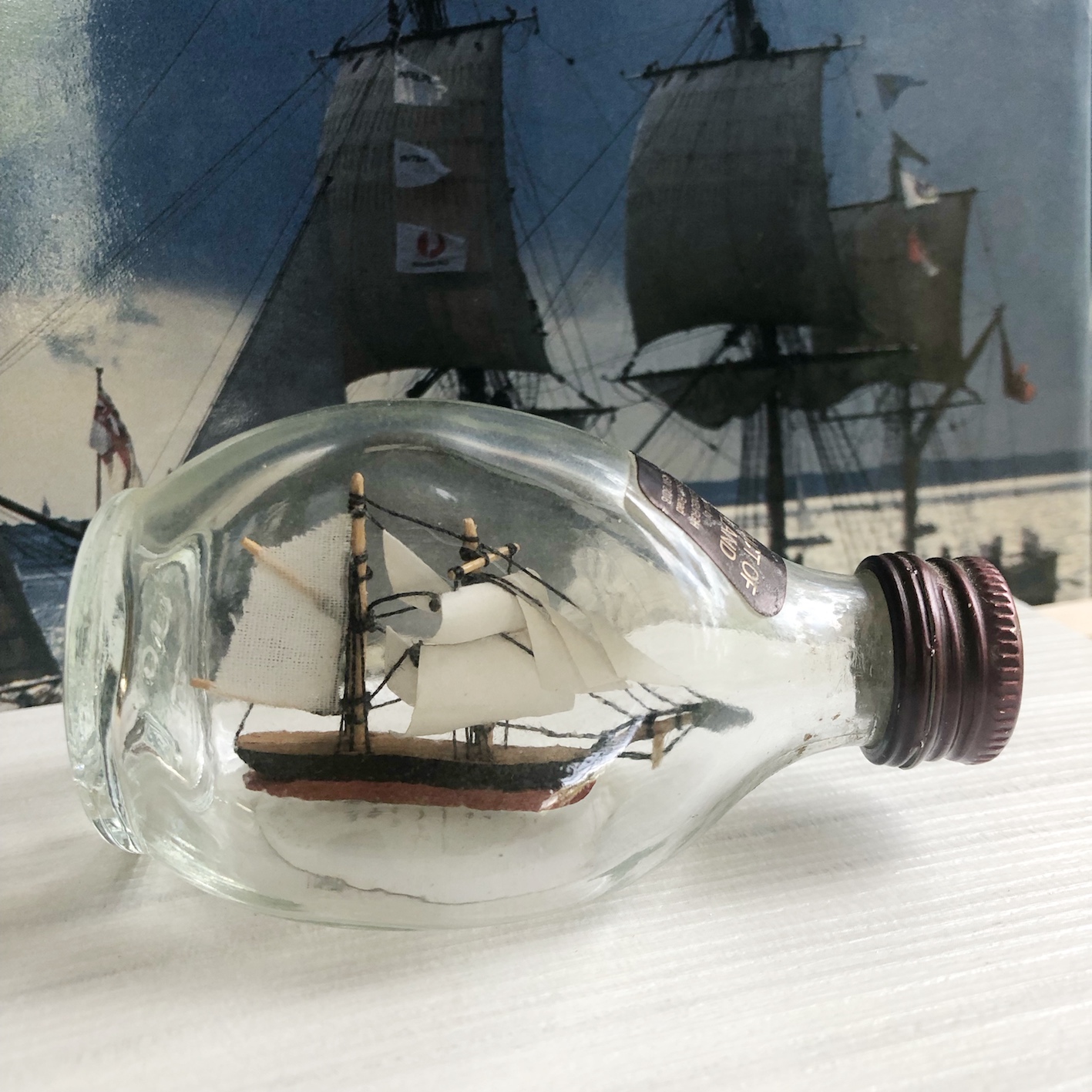 Sailor Crafts
Exploring traditional seafarer arts and crafts became a passion. I started with knot tying and fancy rope work, then canvas work, studying the way sails were traditionaly constructed.  Ships require some tricks to get them into bottles, I was very drawn to the minature. I also explored Scrimshaw and bone carving, making bodkins and letter openers, jewellery size rigging tools like fids and tackle blocks in silver.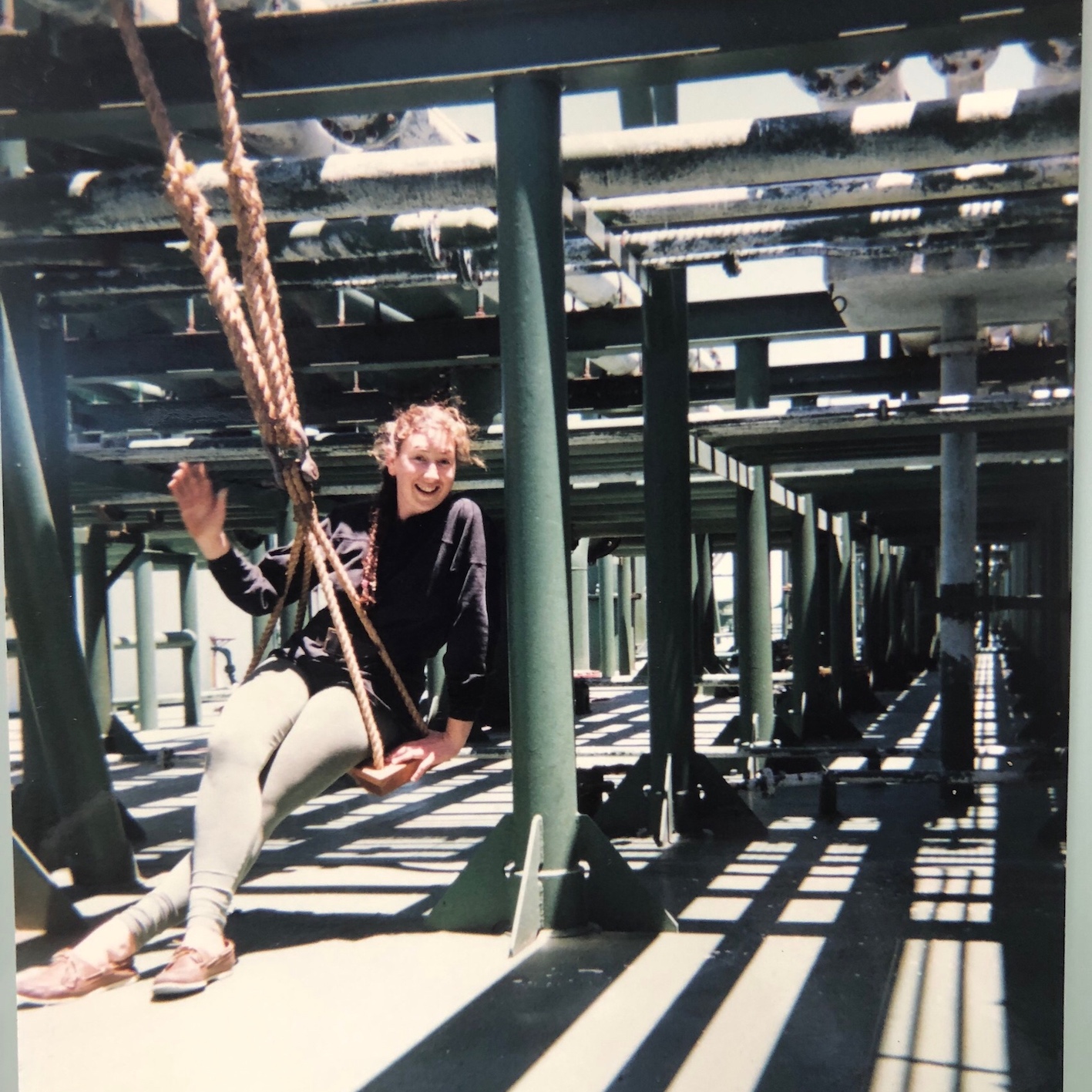 Deep Sea
I joined the Maritime Industry of big commercial ships that sailed me around the world, nourishing my love of vast open spaces. Indian Ocean days of nothing but sea and sky were beautiful watching  Albertross and Petrals gliding and bobbing on the sea surface. Steering them in and out of Port was a thrill. An industrial work environment of big machinery, male traditions, and global travel. An eye opening education I loved.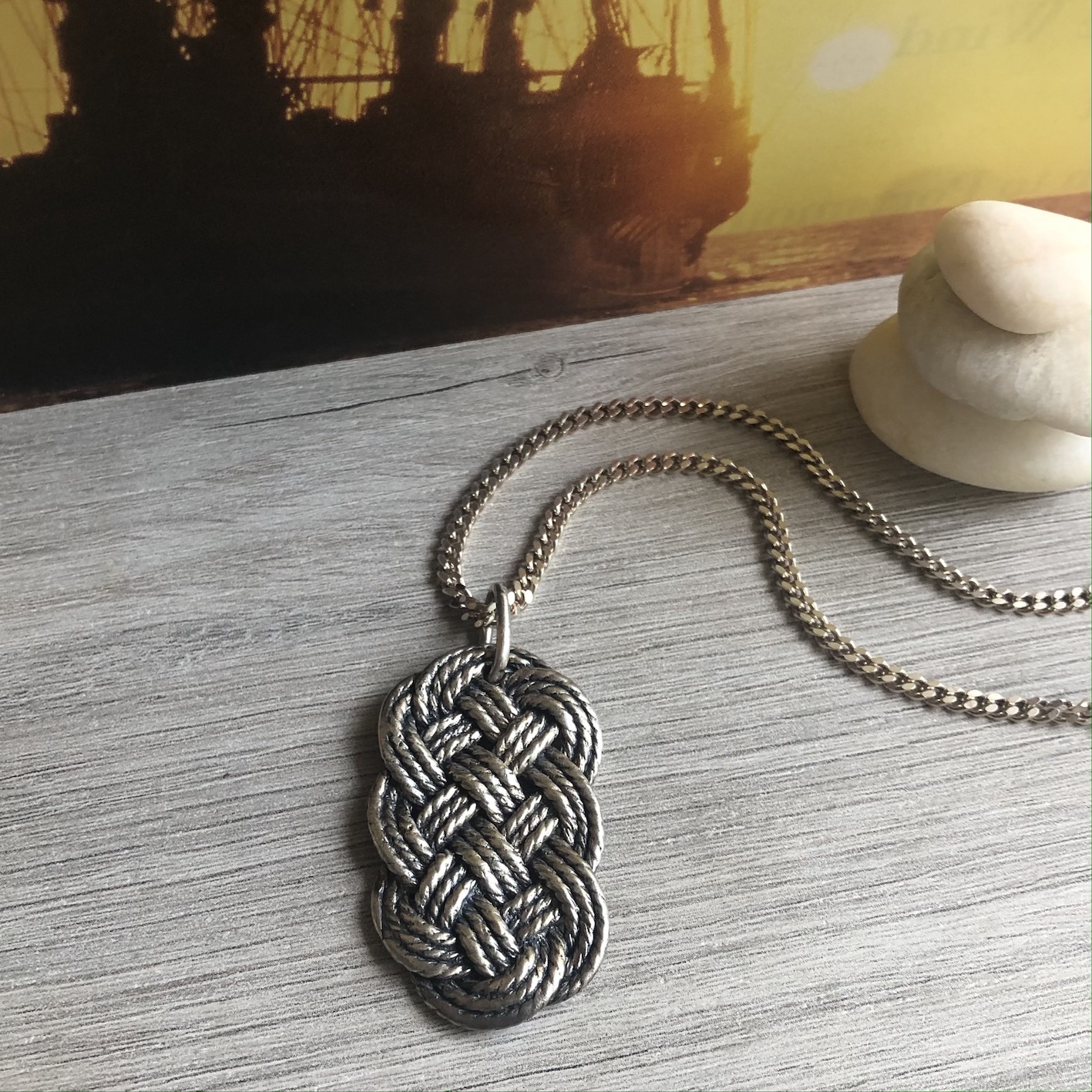 Coming Ashore
2001 sailing into Cairns on our Ketch we felt 'home'.  I could feel a strong yearning to return to my art practise and leave the sea. I worked for different jewellery houses here in Cairns. Then in 2013 Mum passed and my job was liquidated. I fell into a well of sadness and the only way out was to make. I made a whimsical kite in silver, it felt happy and reminded me of my childhood making kites from sticks and paper.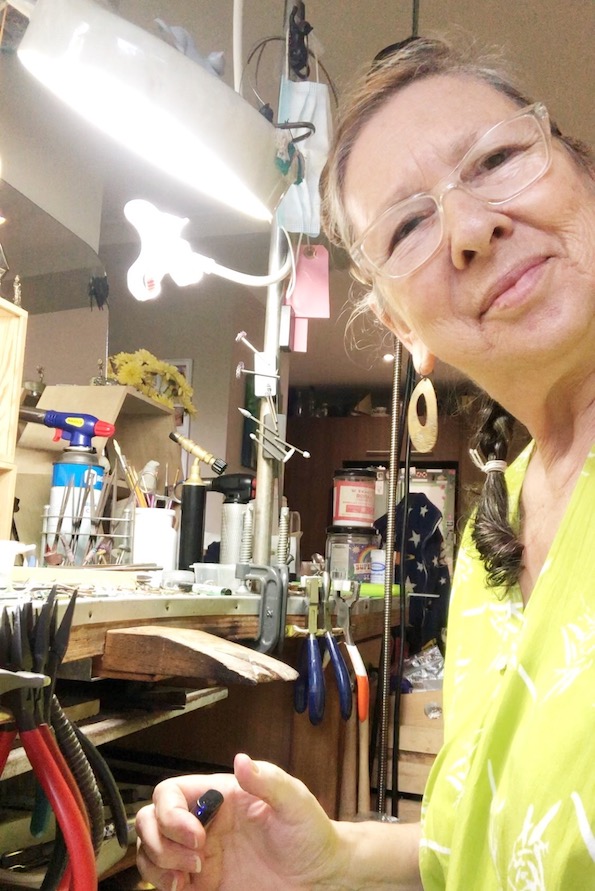 A Double Sided Coin
I signed up for Diploma art classes at Tafe in 2014  with Julie Poulsen. I discovered I can tell stories and create feelings in making objects and jewellery. After all those scattered working years it was great to be self directed again.
'Conversations With My Mother' was a body of work I created for the end of year Tafe exhibition. It was about all the domestic things you need to make a home, a whimsical and ethereal domestic tale with a white aesthetic tying the works together. Honouring my Mum and our language of making things with our hands. These works were then selected for 'Cairns Emerging Contemporaries 2015', a group show in the Cairns Art Gallery. (CAG)
'All That Remains' was my first solo, showing in the Niche, at CAG. I was talking about our impact on the environment. I had seen a lot globally in my years at sea. I was extremely proud of what I had created for 'All That Remains', a huge body of  jewellery and soft sculpture. Read Sonja Anderson's article in Garland Magazine
Eight of the soft sculpture necklaces were selected for 'USE' a JMGQ travelling exhibition 2018-2021.  I hope I have inspired a school kid to take up art as a credible pursuit!
My second solo was 'Lay of The Land' in 2017 at KickArts, now known as NorthSite Contemporary Arts. It was about knowing your way home by landmarks and sign posts, an aerial view of landscape, I often find myself flying like a bird in my dreams. A visual jewellery show of mixed materials, chased aluminium set with porcelain gems inlayed with coloured slip, telling landscape stories laid out on aerial photographs I took from the window of a plane.
The whole show sold well, and that is the other side of the coin.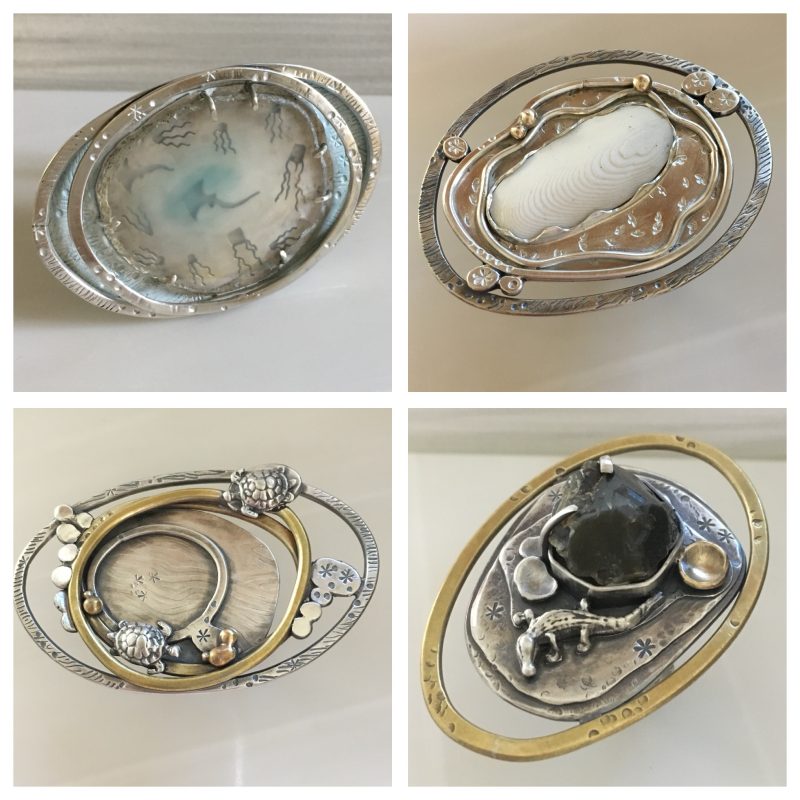 State of Shine Radiant Pavilion
'State of Shine', presented by JMGQ at Brunswick Street Gallery, Fitzroy, Melbourne, for Radiant Pavilion 2019, Melbourne's Contemporary Jewellery and Object Biennial. 
'Dangerous Places Far North Queensland'
is a series of four rings exploring far north Queensland's dangers and environmental pressures. 'Crocodile Island' has a menacing croc and features a cliff of natural green garnet crystal, from Mt Garnet QLD, that rises up from sea level with vertical cliffs. 'Stinger Lagoon' is an unsafe place to swim full of deadly Irukandgis, box jellyfish and Stingrays. 'Hatchlings' swim for their life as few will make it to adulthood. Rising sea levels threaten nesting beaches on Raine Island in the Great Barrier Reef. 'Little Tern Cay' refers to Michaelmas and Upolu Cays, sanctuary for sea birds and threatened by rising sea levels and king tides.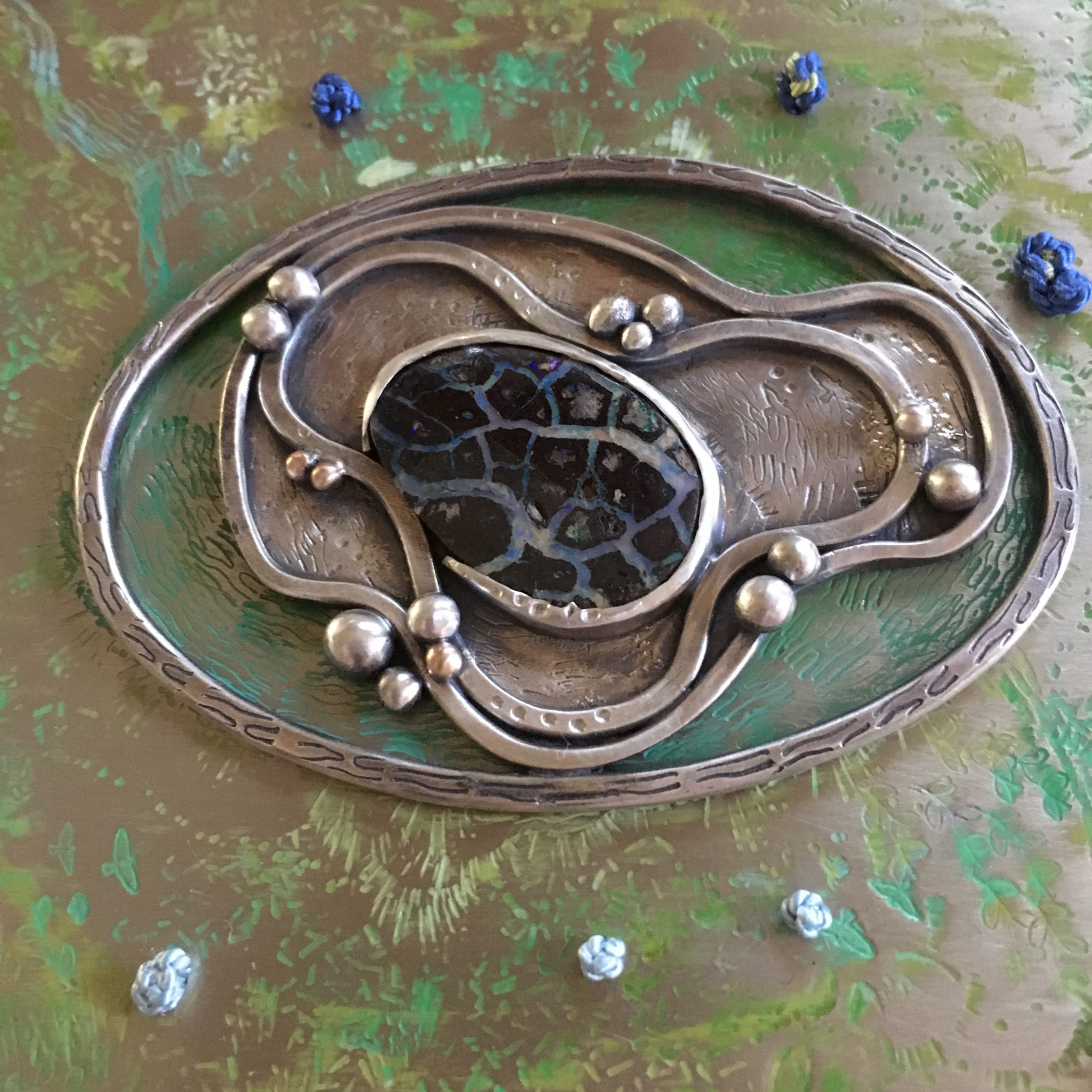 In The Draw for Radiant Pavilion
A fun group show in a vintage chest of spice draws at Small Space Jewellery, Fitzroy, Melbourne.
'Waterhole' is a brooch mounted in a backing plate, an arial view that has been chased by hand and painted. The central brooch features a koroit opal from Queensland, set in silver with contours symbolising the waterhole drying out in winter. The chased backing plate shows the landscape of water run-off to the waterhole in the centre and possible animal tracks leading to the waterhole.
The piece talks about water as a sustainer of life and can be viewed in detail here.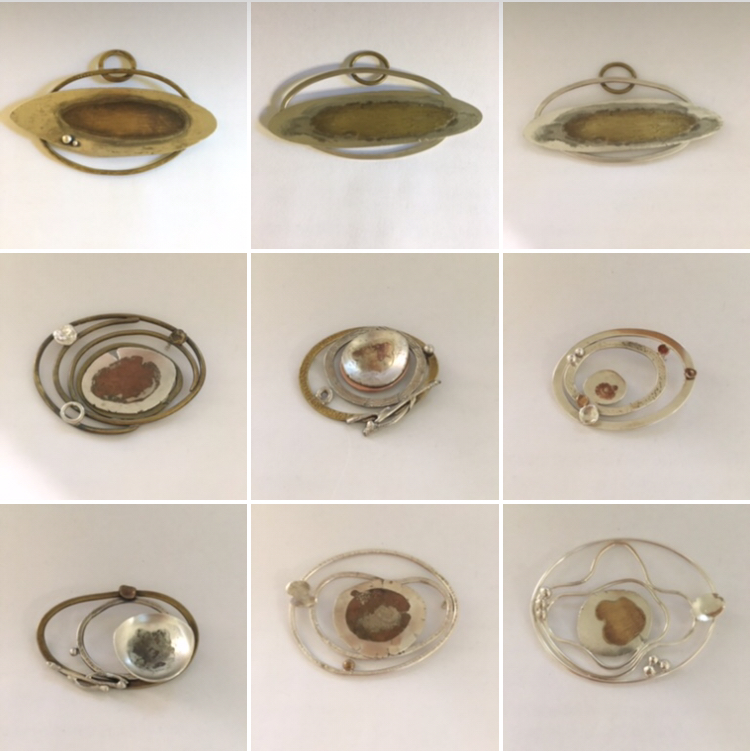 FNQ Contemporaries
I was selected for FNQ Contemporaries and Artist Fellowship 2021 at Cairns Art Gallery. A juried exhibition with the offer of three monetary fellowships thanks to the Cairns RSL.
'Cyclone Country' is where land is sculpted by water and has the most delicious earthy colour pallet. I enjoy looking at landscapes from above, a 'bird's eye view' of abstract shapes and lines. This series of jewellery pieces are small landscapes in which I have explored metal lamination techniques to create the broken free edges that evoke a drying landscape, or a water course, in an attempt to capture the character of this beautiful wild place.
 To be among some really big names in the local art world was exciting and it felt like 'jewellery' had been elevated to the same credibility as painting and sculpture.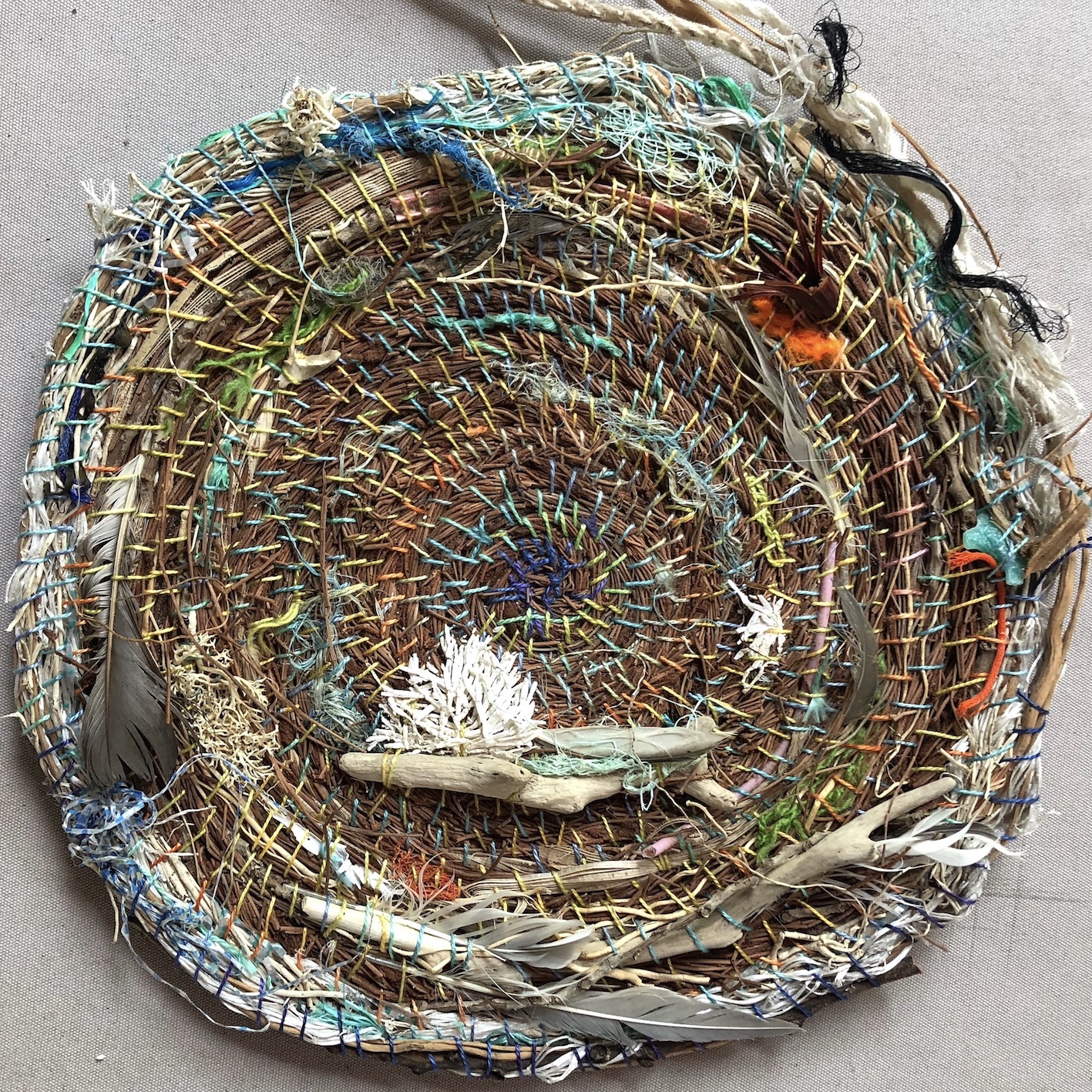 Call of The Running Tide
Call of The Running Tide Environmental Sculpture and Multimedia Art Festival 2021.
'Irresponsibly Sourced' instalation talked about my environmental concerns that related back to 'All That Remains'.
Making a dreamcatcher from a hula hoop, to catch my environmental night mares, and a nest of driftwood and beach rubbish collected from local beaches, I question what we are nurturing for the future. I made little eggs from deconstructed data cable and some in clay coated with micro plastic particles and sand. I hand stitched my worries into a mandala of sorts from beach finds (pictured) It was very ephemeral creating the nest and something I enjoy doing out in the bush or at the beach for my own amusement from what ever is laying around.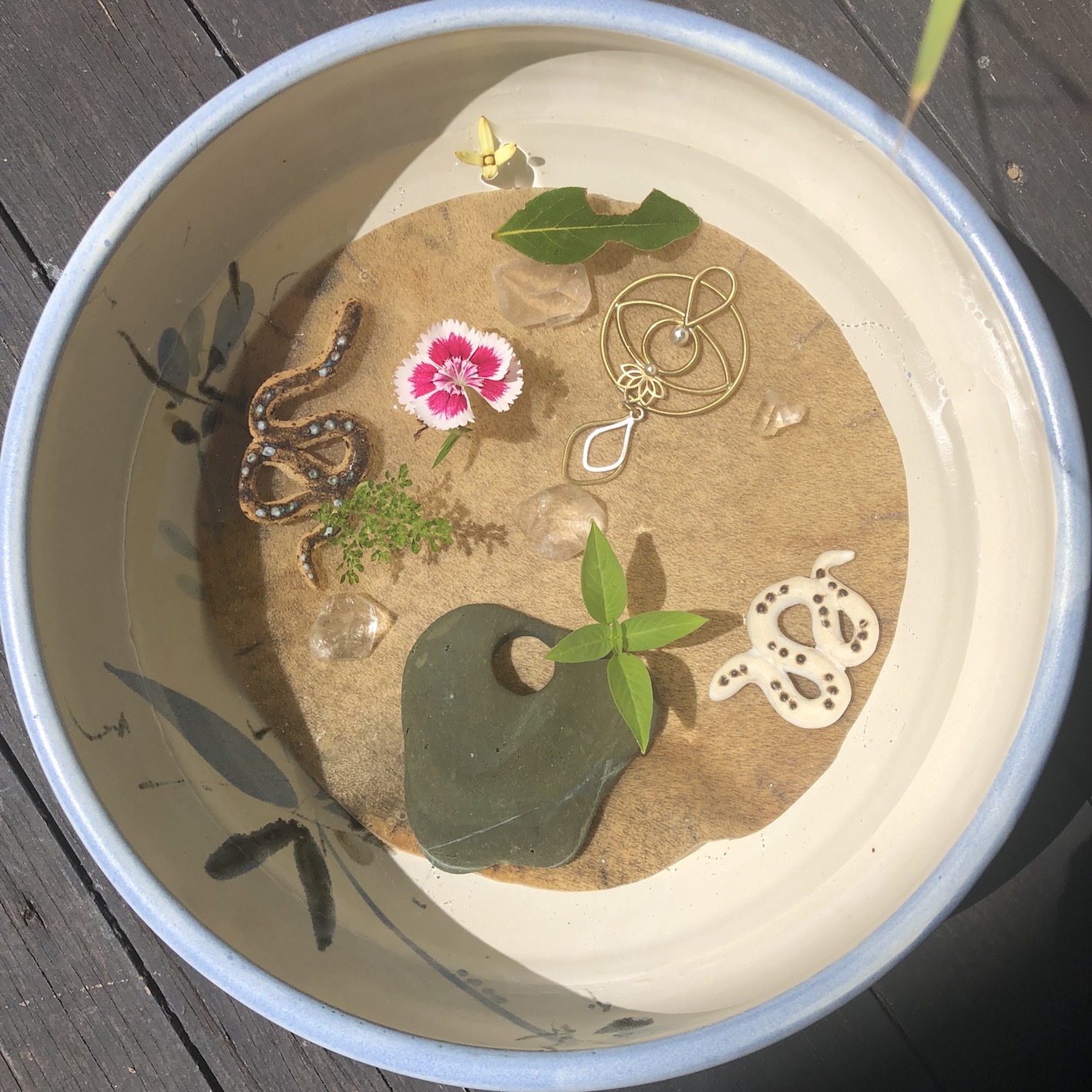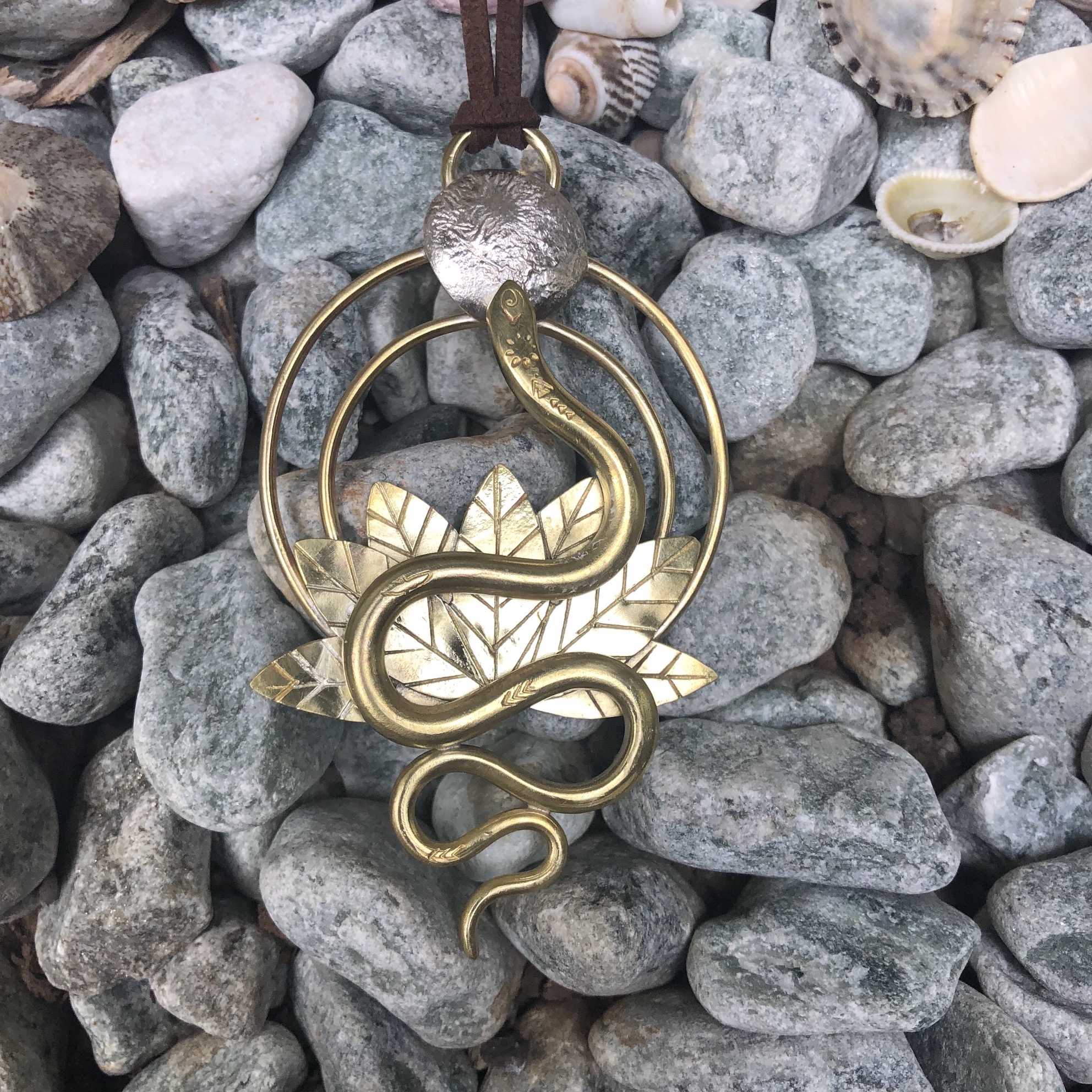 * the Python story
Did I mention I live next to wild mangroves …
Early one wet February morning on the back deck I wrangled a large Amethistine python who had ambushed my furr kid for breakfast. We all survived this battle of wills, shaken, exhausted and relatively unharmed, although I think we all saw our lives flash before our eyes.
From that incident I found myself sculpting pythons, in awe of the power I had experienced. Tappering their tails, coiling their bodies and stamping marks on them was a meditation of healing, a blessing of renewal.
They became earrings and pendants … and will continue as I feel the mighty power of this magestic creature in such a close encounter, they are part of earthly life and within me now.