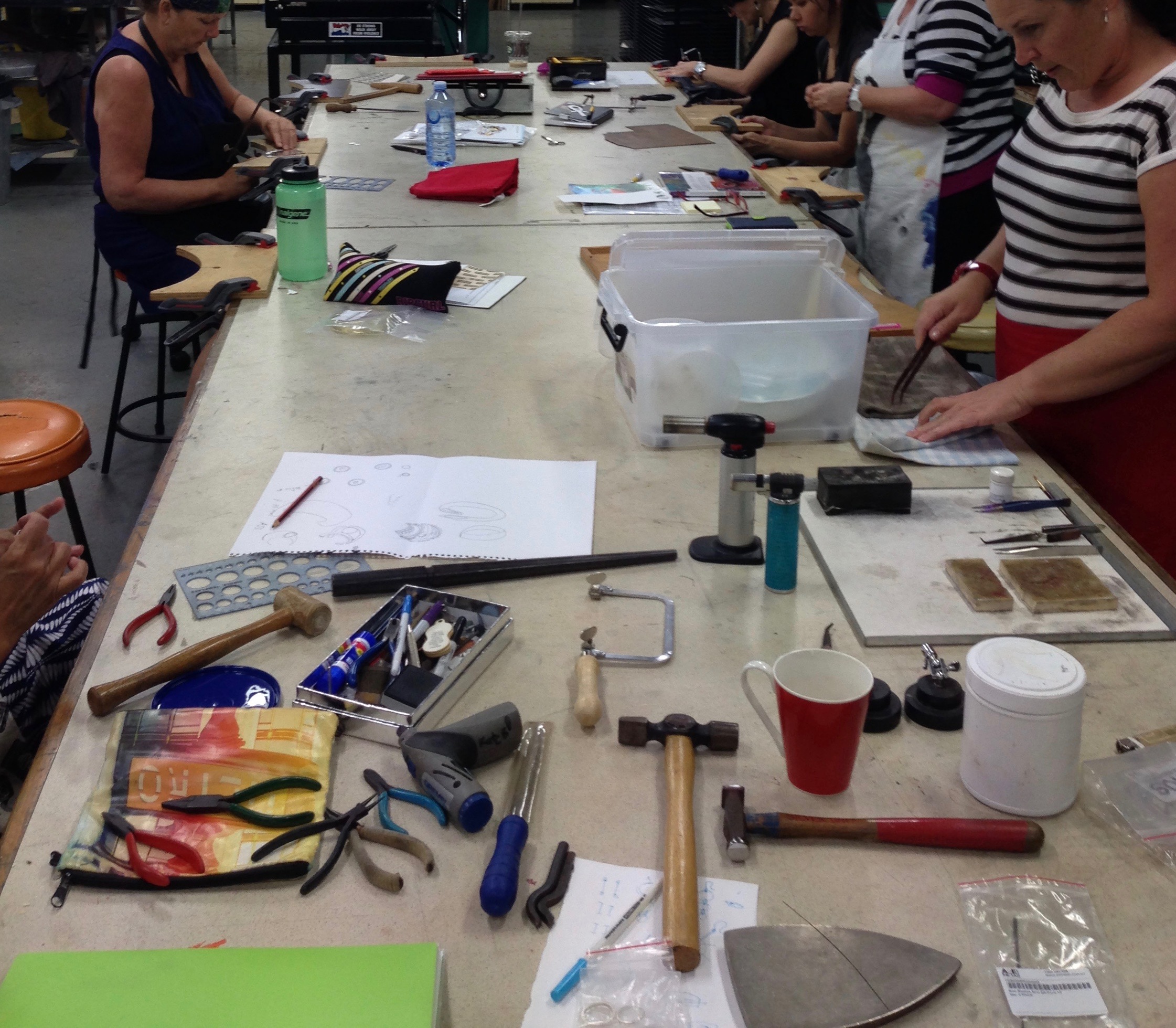 2019 Jewellery and Silversmithing Introduction Short Course Program
These introductory courses run in 4 week blocks on Wednesday evenings for 2.5 hours. Over the four weeks you will learn fundamental jewellery making techniques, how to use jewellery making tools, the art of heat control and soldering, how to make jewellery components like chain, rings, bangles and pendants, along with the texturing and doming of metal.
You will be able to create a piece of finished wearable jewellery, or small set within the 4 weeks. Bring design ideas for discussion and note/sketch book, apron, covered shoes and tied back hair. All equipment supplied, additional cost for materials.
2019 dates are:
Bookings through TAFE 1300 308 233  or click the link below
Course Code: NONAC10016
Couse Title: Jewellery and Silversmithing Introduction Workshop (Non-accredited Short Course)
Course Price: $180
Start Dates: 6 March, 1 May, 29 May, 17 July and 14 August
Duration: 4 weeks, Part-time 1 night per week – Wednesday
Study Mode: Classroom
Weblink: https://tafeqld.edu.au/courses/18365/jewellery-and-silversmithing-introduction-workshop
*************************

I am very honoured to be a finalist in the 'Sole Entrepreneur' category in the
2018 Cairns Business Woman of The Year Awards.
*****************
And four of my necklaces have been selected for this jewellery exhibition at The Smithery Gallery in  Columbus Ohio USA.
"We are so excited to be bringing contemporary jewelry from 29 artists to Columbus to share with you!
We can't begin to describe how great it feels to see one of our goals for The Smithery come to fruition. We plan to continue to bring more great exhibitions like this to our great city. Come celebrate with us!
This is a really special show representing 29 artists from 15 states, 3 countries, and features 6 artists from Ohio!
Join us at the opening reception to try on some incredible pieces and have first choice!  All pieces are for sale and priced under $600. Wear your favourite piece home from the exhibition!"
The Smithery Gallery  
My selected works can be viewed and shopped by clicking the link below
http://shopthesmithery.com/collections/all/exhibition?page=2
************************
'USE'  February 8th to the 18th 2018  travelling Australia into 2020.
So pleased to be selected for 'USE' a juried exhibition by Members of The Jewellers and Metalsmiths Group of Queensland curated by Lisa Bryan-Brown.
My 9 large sculptural necklaces from my solo exhibition "All That Remains' 2016 were selected. Yes my real name is Catherine! If You are in Brisbane check it out at POP Gallery.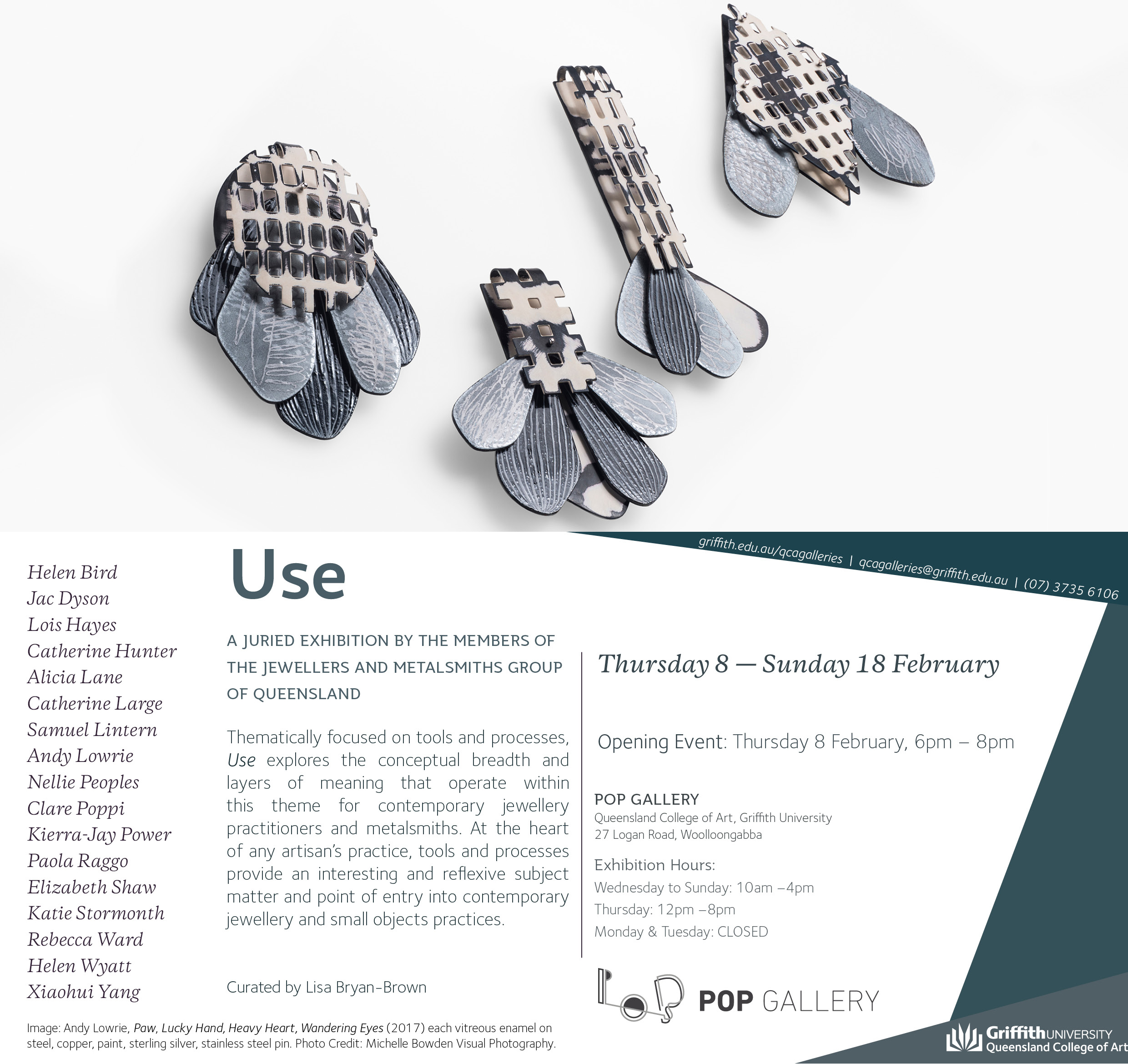 *************************
Solo exhibition 'Lay of The Land' at KickArts Cairns Sept 19 -October 21 2017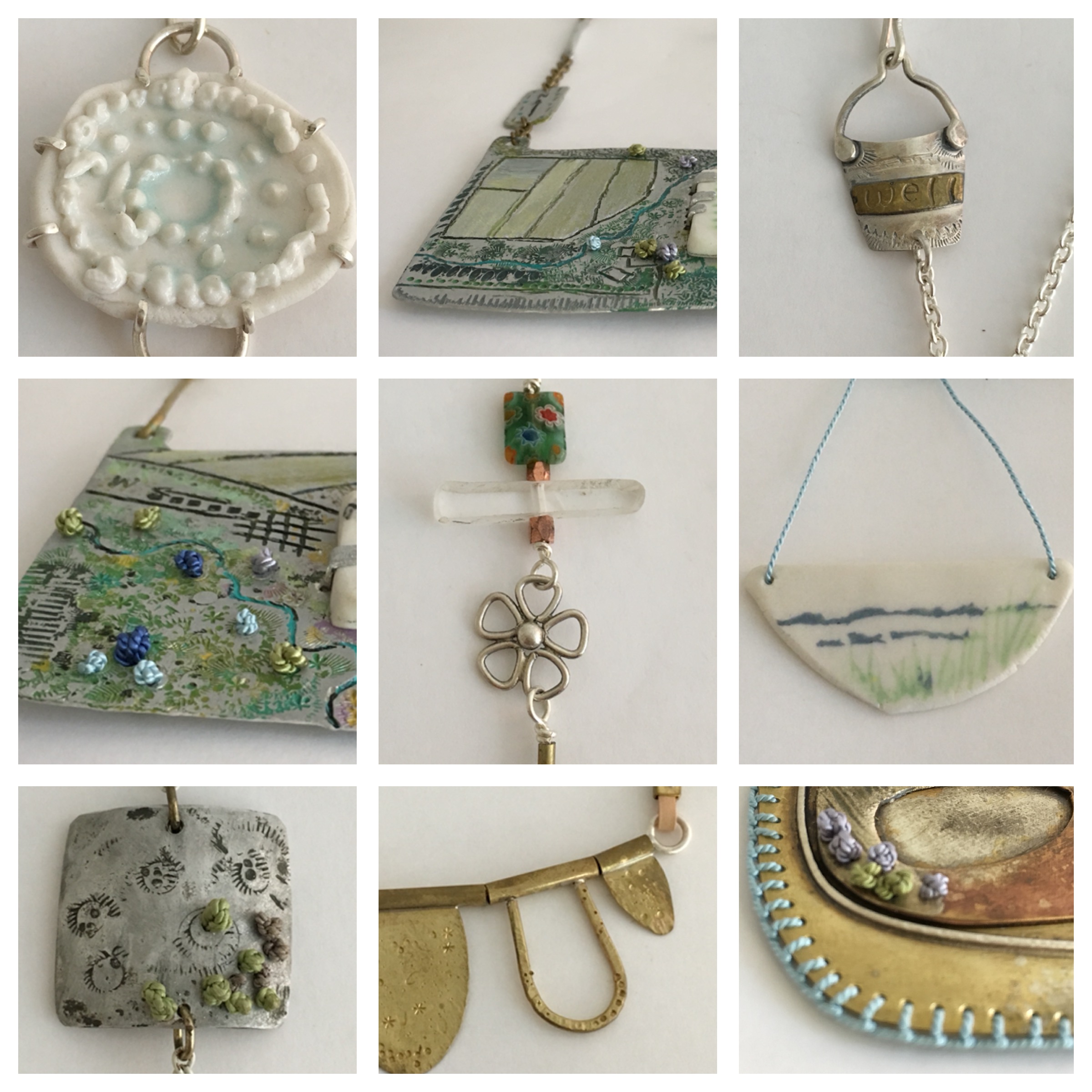 'Details'
LAY OF THE LAND
Emerging artist Kate Hunter examines the topography of our diverse Tropical North Queensland landscape through her latest exhibition Lay of the Land. A series of contemporary jewellery installations create an aerial view over our landscape with over 19 individual jewellery pieces highlighting the unique detail of our tropical landscape. The marks physically embedded in the landscape both man made and natural, enable us to navigate the topographic geometry present. Each pattern and texture evidences our impact on the landscape and the ever changing Lay of the Land.
Shapes & lines carved into the landscape,both human & natural.                                                                               Cliffs rise up reminiscent of cloud shapes,
Decorating the trees with white ribbons fluttering on edge.
Water courses scribble thru the straight survey lines of mapped acreage.                                                               Towns are reflective huddles of dots,                                                                                                                      Clustering together in safety.
The Regional Arts Development Fund (RADF) is a partnership between the Queensland Government and Cairns Regional Council to support local arts and culture in regional Queensland.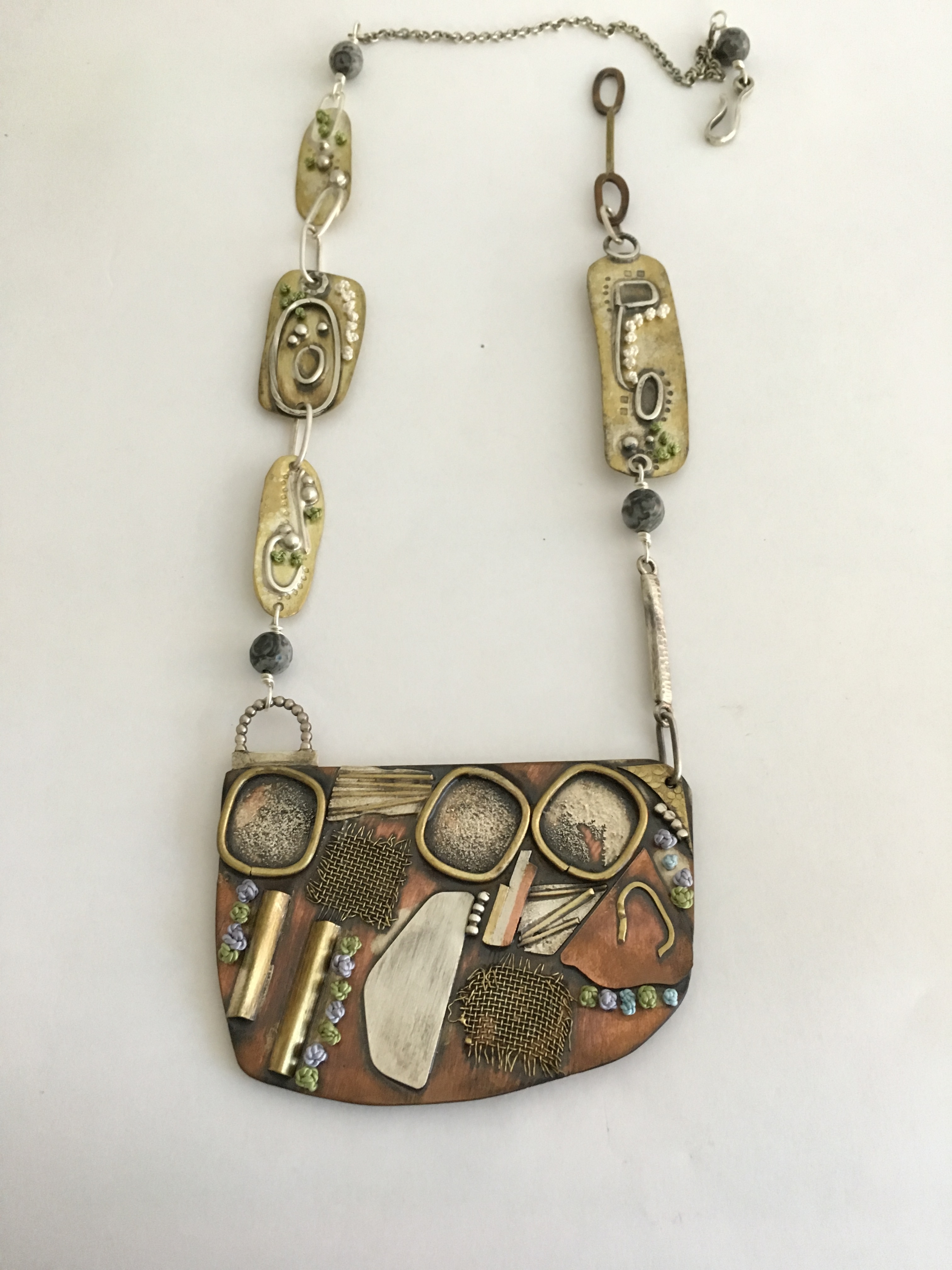 'Past the Aquaponics Place'
*********
SOLO EXHIBITION at the Cairns Regional Gallery 2016
Catherine Hunter is a skilled local silversmith who makes unique small sculptures and fine art pieces.
In this exhibition Hunter draws on a scientific aesthetic to contemplate environmental pressures and phenomena.
Through these wearable fine art pieces Hunter aims to instigate conversations and draw the viewer into a miniature, highly detailed and fragile world.
Working predominately with sterling silver, accented with other precious metals, Hunter fabricates unique forms combined with natural found-objects and deliberately-selected discarded everyday materials.
These materials are used to draw attention to the impact of our consumption on the ecology of local wetlands, mangroves and reefs.
Hunter employs ancient repoussé and reticulation techniques to create blackened-silver bones contrasted against bleached-white powder-coated brass forms layered with real coral, delicate neon aquarium plants and hand-coloured pastel polymer clays.
Through this installation Hunter also explores the possibilities of positive interventions such as the farming of endangered coral species and hybrid new species for the future. The rings and brooches in the center of the room are laid out like a propagation table, the necklaces pinned to the wall like preserved insects.
Look closely to discover tiny crown-of-thorns starfish and coral polyps suspended within plastic domes, a plethora of reclaimed plastics such as tiny sushi take-away containers filled with micro beads and redundant electrical cords knitted with natural fibres.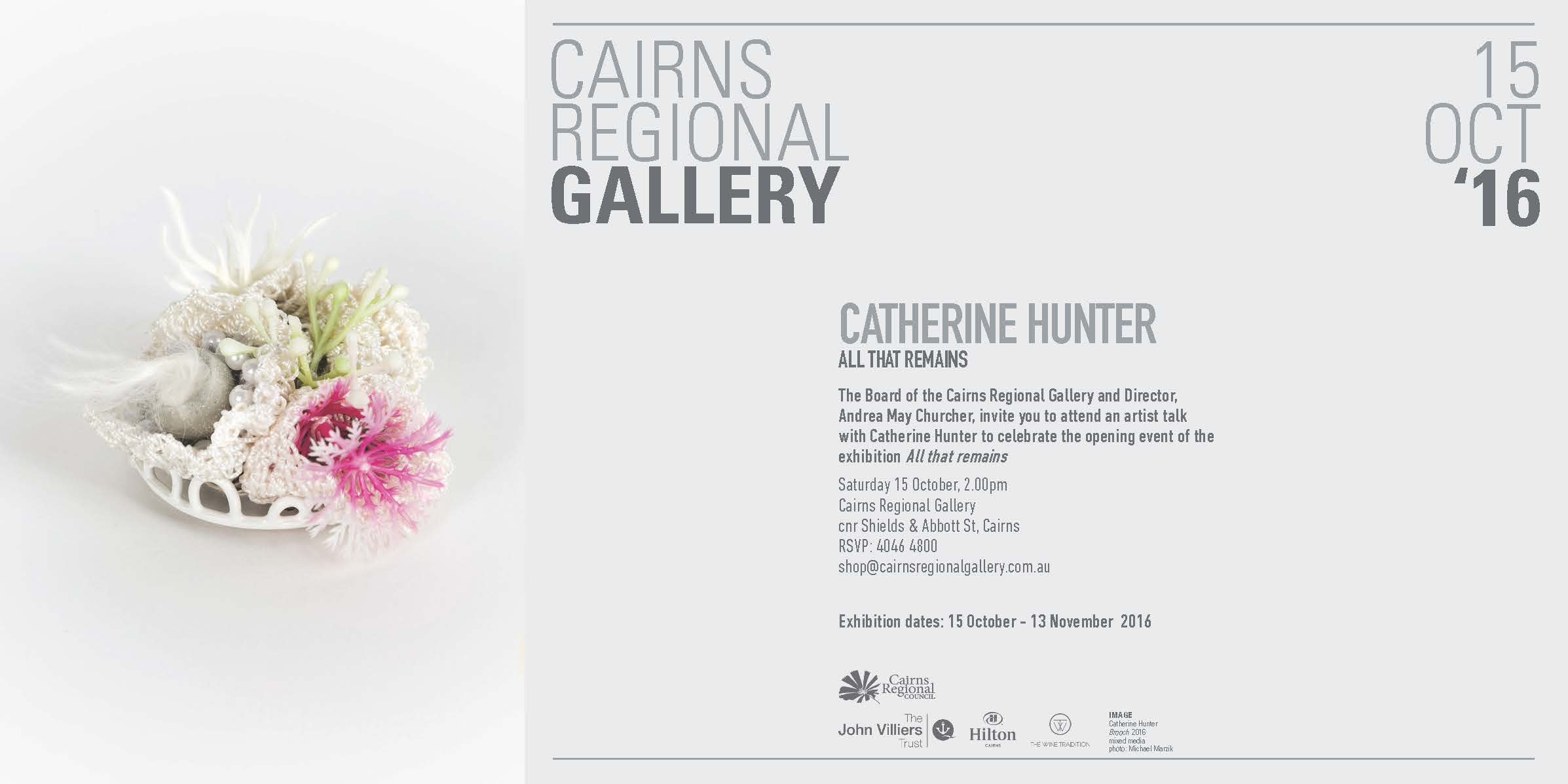 Silversmithing Classes 2016
Short Courses in Silversmithing start again in April.
Gain skills in:
jewellery making techniques
correct use of jeweller's tools
soldering, jewellery components, chain and ring making
principles of forging and doming
Course duration: Tuesday evenings over four weeks.
Dates: 2016
12-Apr to 03-May-2016,
24-May to 14-Jun-2016,
12-Jul to 02-Aug-2016,
18-Oct to 08-Nov-2016.
Time: 6.00pm – 8.30pm
Venue: TAFE Queensland North, Cairns campus, R Block.
Cost: $170.00
Enrol now!
Call the TAFE Queensland North Customer Service Centre on 1300 656 959 or visit the Cairns Campus.
What to Bring:
Please bring an apron, note/sketch book, wear covered shoes and tied back hair.
Silversmithing Classes 2015
Short Courses in Silversmithing take place at the TAFE North Cairns Campus off Gatton St in the Art Room R Block.
We begin 2015 with a 6 week class of 2.5hrs on Tuesday evenings 6pm till 8.30pm starting 17-February to 24-March.
There will be another 4 week class in June, August and October. These classes will also be 2.5hrs on a Tuesday evening 6pm till 8.30pm.
For enrolment details contact TAFE on 1300 656 959 or visit the Cairns Campus.
Private tuition is also available please email to inquire.
New Sculptural works
The new sculptural works by Kate "Conversations with my Mother" explore the concept that 'conversations' aren't always in words, they can be visual gestures of showing and learning, reminders of moments and places we have been before.
These sculptural works are part of the exhibition 'Cairns Emerging Contemporaries 2015' at the Cairns Regional Gallery 23-January to 1-March 2015.